Tips for Choosing the Right Chairs for Your Dining Table
Are you complacent when it comes to the interior design of your dining room? Yes, it is easy to select a dining set complete with table and matching chairs. But if you do not go beyond the obvious matches, you are missing out on an opportunity to create a dining room that is both gorgeous and memorable. We realize that not everyone has the same eye as a professional interior designer, so we have created this short guide with tips for choosing the right chairs for your dining table – whether you are replacing the entire set or just the chairs.
Table Height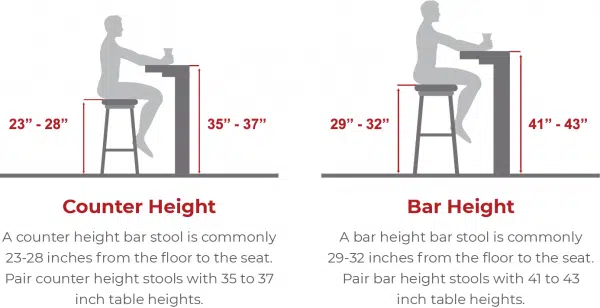 Make sure your chairs are the right height for your dining table, whether that is a standard, counter or pub height. See our guide for the difference between the three. With taller dining tables, barstools are often preferred.
Table Shape
Perhaps one of the most important factors in selecting the right dining chairs for your dining table is the shape of your table. Many of us opt for a round dining room table. The curves of this shape are perfect for chairs with curved backs, as well.
If your table is square or oblong, nearly anything goes in terms of chairs but do beware putting curved chairs around a very linear table.
If you simply remember that like shapes look good together, you are well on your way to finding great chairs that are not a complete match to the table.
Speaking of Matching…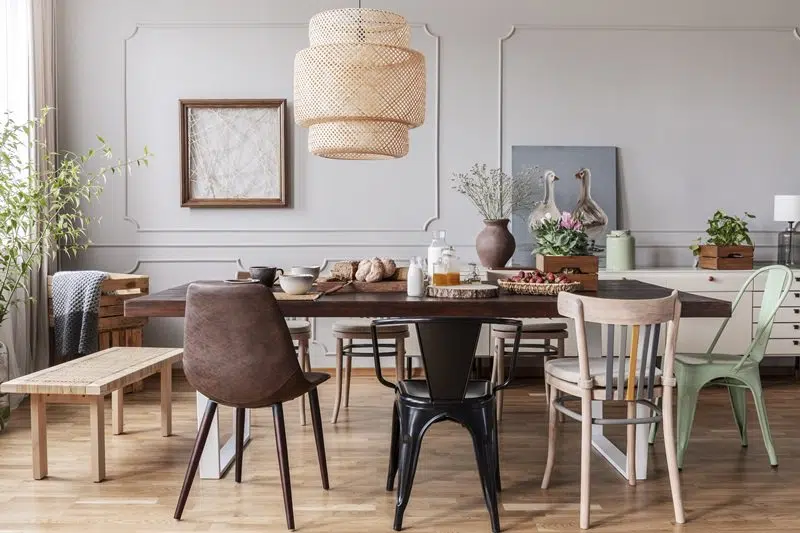 Do all the dining chairs for your dining tables need to match? Not at all. With many of our dining room sets, benches are an option. Why not use a bench on one side of the table with chairs opposite? Or really mix things up by selecting different chairs of similar styles. Another way to avoid a matchy-matchy set is to use the same style of chairs with different upholstery fabrics, seat backs or leg details. With the option for custom dining room furniture included with many of the pieces we sell, it is easy to keep things similar while providing visual interest via the details.
Color It Different
Along the same lines as mixing things up when choosing the right chairs for your dining table is adding a pop of color. It can be a finish in a bright hue contrasting with other elements in the room or you could opt for a lovely upholstery pattern that incorporates various shades. Don't be afraid to go bold with color; dining chairs are one of the smaller elements in a room and unlikely to dominate.
Accommodate Everyone
When choosing the right chairs for your dining table you should think about accommodating not just your regular family members but also guests. Extension tables allow an easy way to expand your entertaining options but do be sure you have enough dining chairs for your holiday gatherings and special occasions. You may want to select at least four extra chairs without arms as they more comfortably fit around the table when all the seats are full.
Now that you have reviewed our tips for choosing the right chairs for your dining table, we hope you feel comfortable enough to think outside the box and add a bit of flair and pizzazz to your home.