Eat In Kitchen Design Tips
Small and older homes often do not have a separate dining room. Some homeowners see this as a blessing and others as a curse. How you design the space you do have makes all the difference. Try these eat in kitchen design tips to transform your space into a showpiece regardless of size or age.
Ditch the Dining Table
Sometimes it is better to just forget about trying to find enough space to add a traditional dining table and chairs in your kitchen. In fact, a very popular contemporary trend is to use an island instead. An island located close to the appliances in your kitchen makes for a great prep area and is also conducive to family and guests hanging out while dinner is prepared.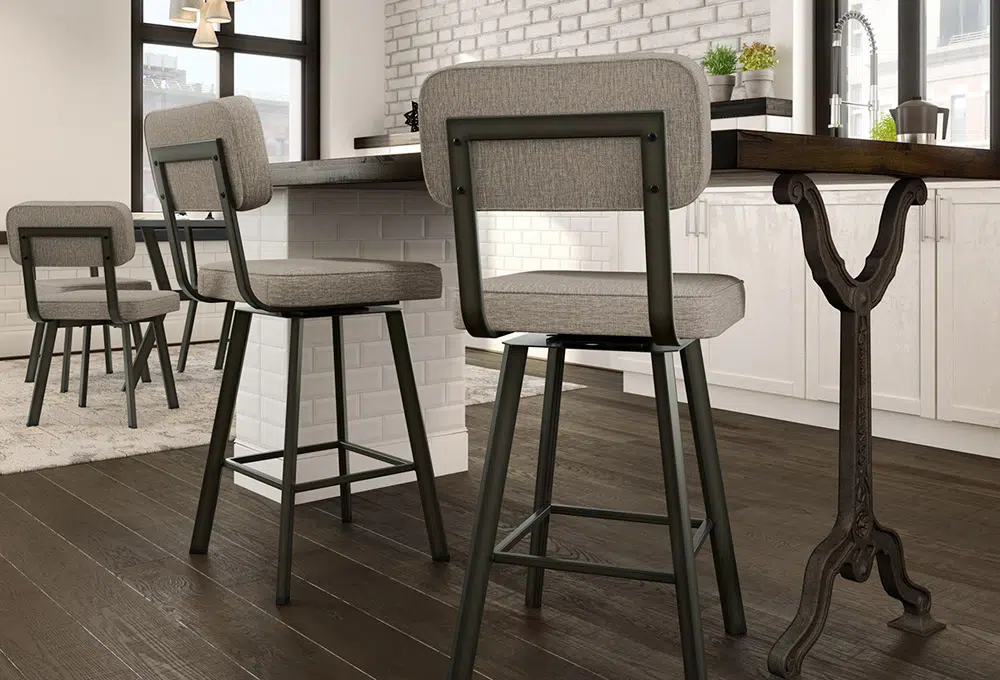 Pictured above is a rustic wood and brick island accented by a beautifully detailed iron support piece at the end. The Audrey Swivel Bar Stools are just the right height for dining as well as prep work and offer a clear view of the activity in the kitchen. Their simple design lets the island act as centerpiece of the space while providing a comfortable perch.
Or Let the Dining Table Take Center Stage
Conversely, if you have the room, eat in kitchen design can revolve around the dining table. The right table can take the place of an island, which seems to be so prevalent in today's kitchen design. Or it can butt right up against the table, as shown here.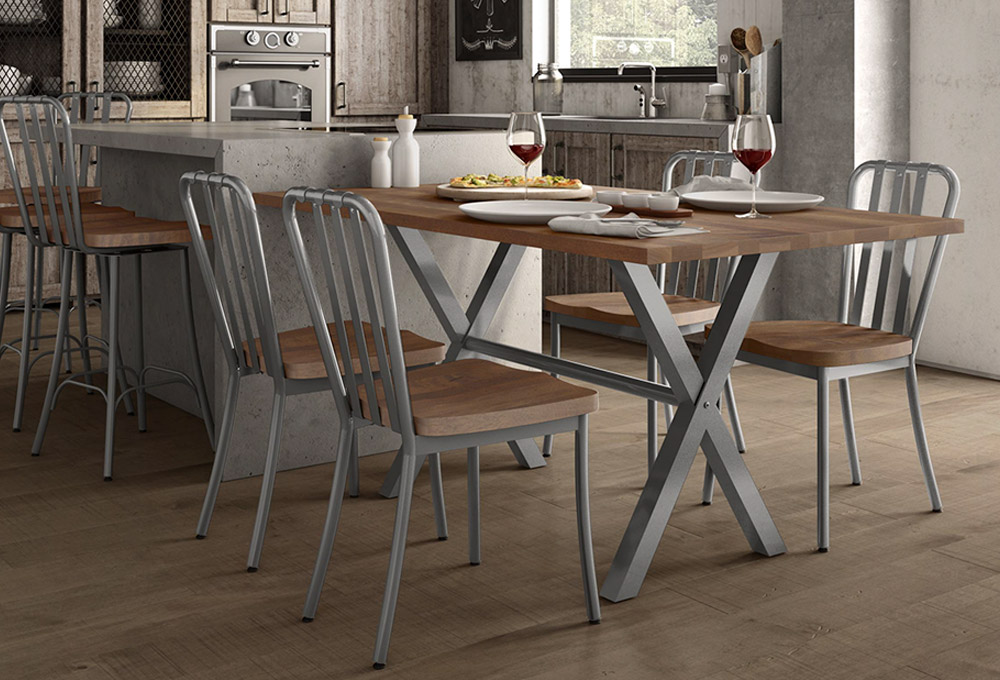 The Aaron Table Set is right at home in an eat in kitchen of country or contemporary style. Dining space is expanded by adding matching bar stools for the island without taking up any precious square footage in the kitchen proper. The design of the chairs allows plenty of light to shine through, which makes the room appear bigger. With the Aaron Table Set, you can customize it to your preference by choosing the wood finish color and the metal frame color. This kitchen is sure to be one where the whole gang gathers before dinner.
Table and Island All in One
Finally, here is a brilliant idea for eat in kitchen design – a dining extension table that also doubles as an island. Get the best of both worlds and still have plenty of space leftover.
Shown here is the Miller Island Extension Table. As you can see, it features lots of clever storage space in the cupboard and drawer. The dimensions are 54" x 36" so this table can easily fit into most kitchens. But it also extends when the need arises, such as holiday dinners when extra guests crowd around. Although it can function as an island, it looks like a gorgeous, standalone piece of solid wood furniture.
If your only option is an eat in kitchen, have no fear. There are plenty of great dining designs for small spaces that allow your kitchen to be fully functional while saving space.