Tips for Making a Small Dining Area Look Bigger
Is the area where you and your family gather to share a meal a bit less than spacious? Luckily, it does not require a lot of square footage to create a cozy and comfortable dining room. Whether you are using part of an eat-in kitchen, a nook in the living room, a designated dining room or simply a stretch of wall space, there are ways to make it work for your needs. These tips for how to make a small dining room look bigger are just the thing to transform your space.
Carving Out Space
Many modern homes no longer feature a designated dining room. Instead, one great room with no partitions is often the only area available for a dining table and chairs. You may want to place the dining area along a wall that transitions from the kitchen to the living area. This takes the dining set out of the traffic pattern, thus opening additional space. A banquette along the wall has the advantage of adding storage. A bench along the opposite side of the dining table makes for a small footprint while a table with rounded edges makes it easier to move around the dining set. This layout helps utilize the space efficiently and is an effective strategy for how to make a small dining room look bigger.
Kitchen Dining Nook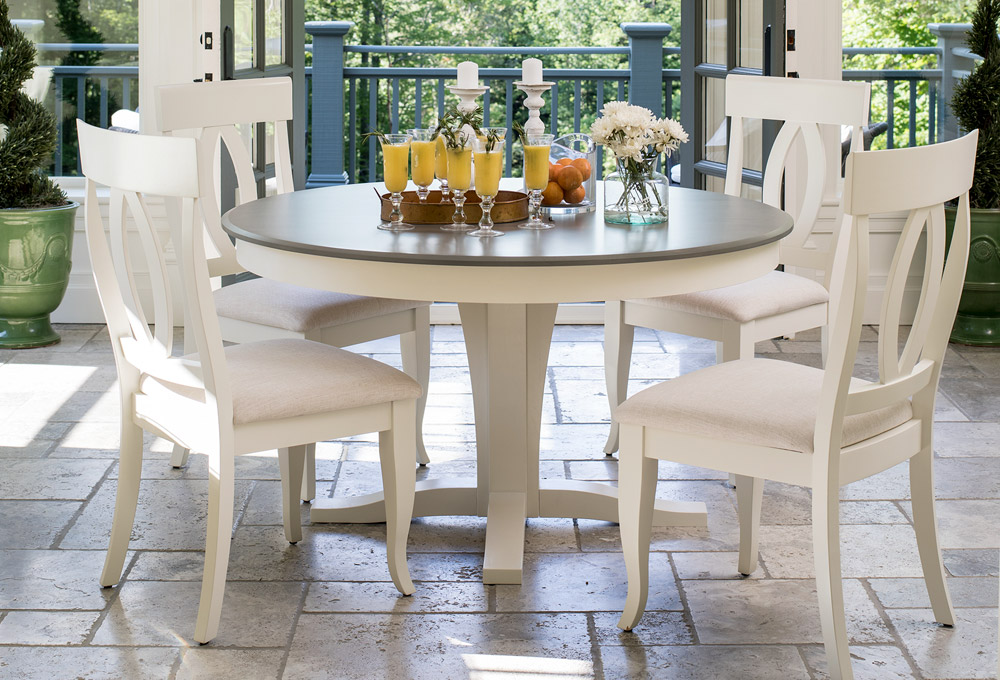 In an eat-in kitchen, often a nook is designated as the dining area. It can be a corner of the room or right out in the middle of the empty floor space between cabinets and appliances and the entrance to the adjoining room. In either case, a small dining set is a good choice. We recommend going with a round table to best fit the corner space. If you choose one that is extendable, you will always be sure to have enough room for extra guests.
Eat-In Kitchen Counter
A modern trend for how to make a small dining room look bigger is to do away with a dedicated dining room table and chairs and instead opt for counter seating. This is similar to the old diners of yesteryear, where patrons could seat themselves at the bar and watch soda jerks prepare their order. Add a modern twist by creating an overhang on one side of a kitchen island with a prep sink, wide enough to comfortably accommodate a full place setting. The only drawback to this design is that there is no additional room when more than just the family eats a meal together.
Small Dining Sets
When figuring out how to make a small dining room look bigger, it is important to consider scale. A bulky, heavy dining set – even if it fits – will look out of place in tight quarters. Instead, a rectangular or square table with narrow legs and not a lot of fuss to its design is a better choice. It can even be pushed up against a wall or into a corner when there are only two to three diners. The dining room chair design should incorporate plenty of open space to let the light through, rather than having solid backs and thick legs.
When making a small dining area look bigger, you may want to tape off area on the floor to represent the size of the dining set you are considering. This will really help you envision the final design and determine if there is enough room on all sides. Refer to our handy guide for dining room seating measurements for extra advice.