Dining Room Trends for 2022 Part II: Details, Style and Seating
What else is new in the dining trends of 2022? If you have not already done so, please read our first installment of this two-part series on colors and texture in current dining room trends. In this article we look at dining trends for 2022 including chair and furniture details, glam styles, sustainability and seating options.
Glam Looks
In 2022, dining trends are all about the glam in contemporary homes. One of the hottest dining room trends for 2022 is smoked glass. Not only are we seeing it in pendant lighting and vases, smoked glass tabletops are very popular and quite handsome.
Along with smoked glass, add a bit of brass or gold. Think smoky 70s-era bar or Manhattan apartment style to channel this vibe.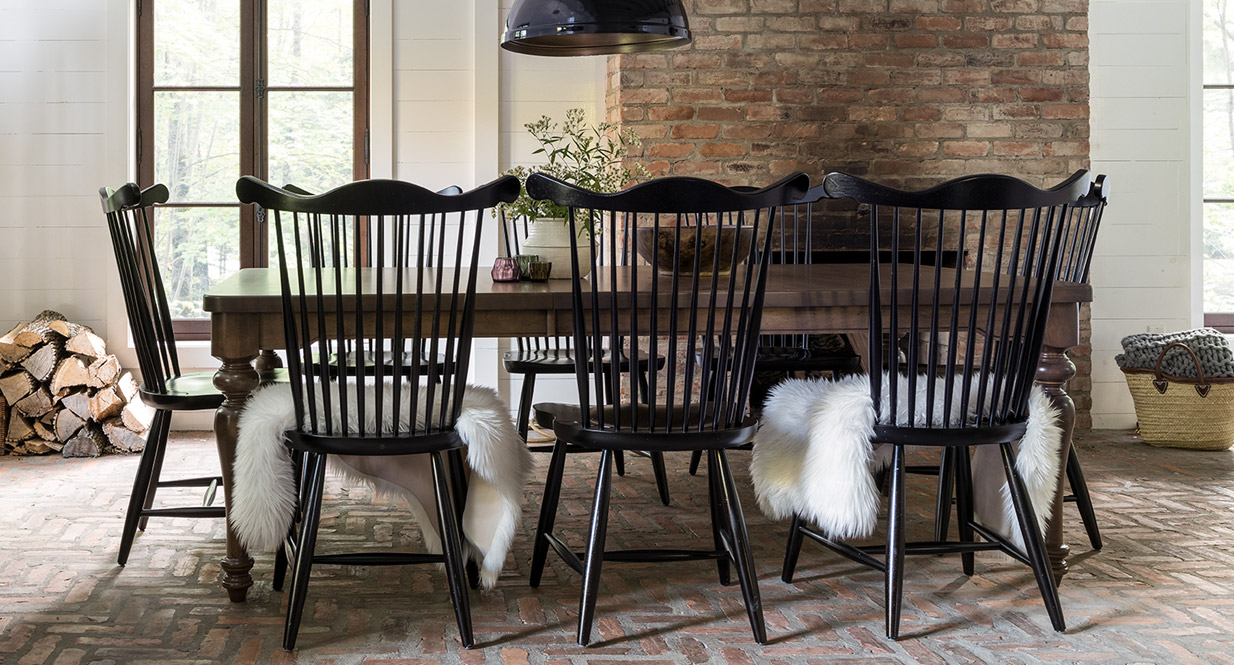 If all that glass and metal is feeling a bit cold, try adding a fur rug or hide to your dining room. This décor piece will add a bit of warmth and whimsy. You could opt to hang a hide on the wall as a dramatic statement piece or you could drape furs across your seating pieces, as shown here on the Plymouth Solid Wood Dining set. Fur and hides are a natural addition to modern country style and blend well with Scandinavian interiors. Even better, these materials are considered sustainable and are usually treated so they age well and last longer than you might expect.
Table Style
In addition to smoked glass tabletops, dining trends for 2022 include a focus on bold table legs such as the Finn dining set shown above. A gorgeously turned pedestal, x-shape cross pieces, or a pair of columns reminiscent of Greek architecture are all options that turn attention to the area below the top. You will want to keep the seating simple so as not to detract from the bold style or view of the legs.
Another trend that really began taking off during the pandemic is multifunctional furniture and the dining room is no exception since so many of us started working from home. Extension tables are always popular but there are many options today that go far beyond that, such as a combination island/table pictured above.
Modern Seating
Many modern homeowners are opting for something different than a matched set of chairs for their dining table. One of the dining chair trends for 2022 is combining both chairs and bench seating. This gives your dining room a modern country look and also may allow you to accommodate more diners if you have littles running around.
Sustainability
Now more than ever, we are learning the need to think carefully before making a purchase. In 2022 trends, sustainability is of the utmost importance and the dining room chairs and furnishings you choose should be no exception. Look for labels that indicate the wood was sustainably sourced and farmed, finishes do not contain any volatile compounds and eco-friendly materials such as salvaged timbers were used. Be sure to look for a design that you will continue to love for many decades and the highest quality you can afford, thereby eliminating the need to replace and dispose of it.
How many of these dining room ideas for 2022 do you want to add to your home space?