2022 Dining Room Trends Part I: Texture and Color
What's new and current in dining room design trends this year? If you are planning to upgrade or remodel your dining space, then you will surely be interested in these latest dining room trends taking a firm hold in 2022. In this first installment of a two-part series, we examine the newest ways to incorporate color and texture in your home. For the second installment in this series, visit our post on 2022 dining trends in details, style, and seating.
Leather Love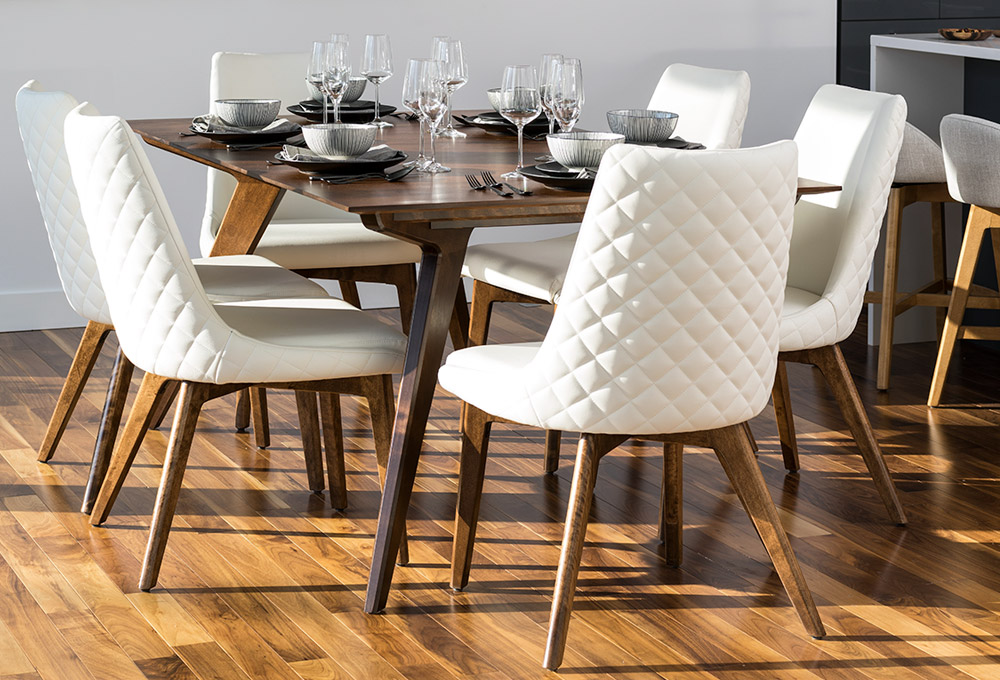 This year in current dining room trends we are seeing a focus on adding leather in the dining room. Whether it drapes across the back of a chair or provides a comfortable seat for a barstool, leather is both durable and beautiful. Leather is easy to clean and just a small amount of maintenance keeps it looking good for many years to come. The Logan Wood Dining Table Set pictured above features white, quilted leather upholstery on the chairs, in contrast to the warm wood of the table and chair legs. It's a classic combination and makes it to the top of our list of 2022 dining room trends.
Darkness and Light
In recent years, the farmhouse design trend lent itself to the practice of pairing light wood with dark upholstery. In 2022, the current dining room trend is completely opposite. A dark wood finish, such as the ebony color of the Concord Expandable Dining Table Set shown above, is the perfect foil for light upholstery in a dramatic pairing. While white chairs can be difficult to keep clean, you can still embody the high contrast trend by opting for a light gray or sand color against a backdrop of dark cherry or black-finished wood.
Textures and Textiles
Especially if you prefer a dining room with a neutral or single hue color palette, texture adds visual and sensory appeal. Not only should you consider upholstery fabric with textural design, but a dining table can also be customized to feature a light finish that shows off the natural grain of the wood. Beiges and grays are still popular neutrals, and they can even be combined, as shown in the dining room above featuring the Winston Round Pedestal Extension Table Set. The rug beneath the set adds even more of a textural element and a cozy feel.
Bright Hues and Color Blocking
Current 2022 dining room trends must include the idea of color blocking, or using contrasting blocks of solid color. Typically, those blocks use bright hues. In direct contrast to the neutrals that are always popular, using a variety of bold colors looks very contemporary and dramatic. If the idea of adding a variety of bright hues makes you nervous, start with smaller touches, such as the contrasting chair upholstery in this Daniel Dining Table Set. Add vivid artwork, a Mexican serape for a tablecloth and a large bowl of colorful fruit to take a step toward this dining room trend.
White on White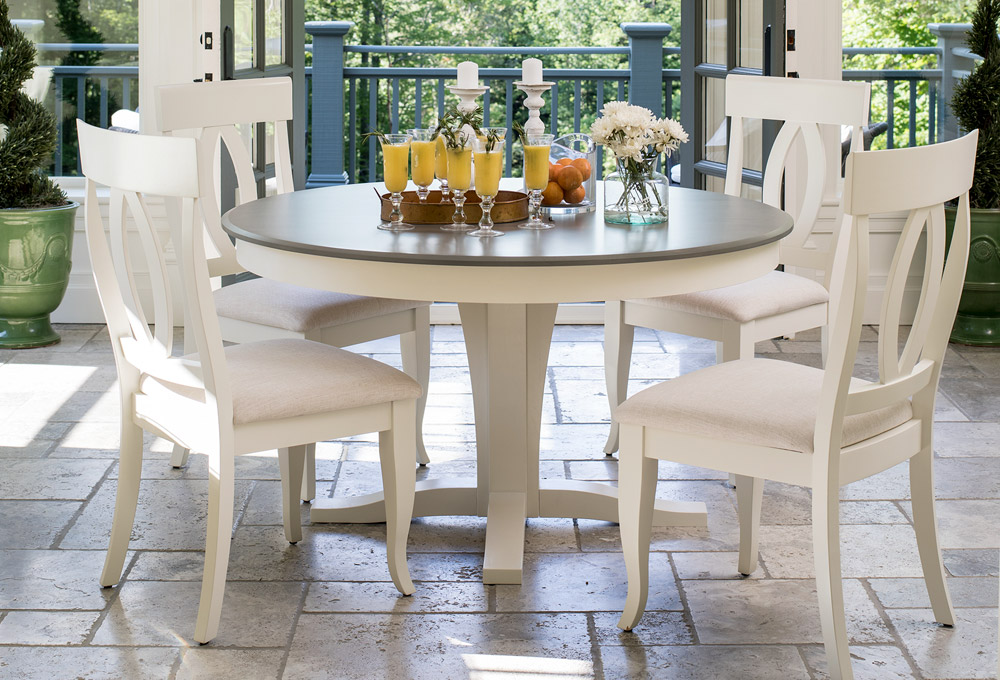 More than just a neutral, white is a perennial favorite in the dining room, and it can easily fit right in with nearly any style. While you might think that lots of white in a room would signify a contemporary design, the Charlotte Round Dining Table set pictured here shows this is not always the case. The tone of the white also makes a difference; select a gray-toned white, pearl, eggshell, ivory or one with pink undertones to give your dining room a different vibe. This single-hued design idea is a great choice for easy decorating as it can easily accommodate any other color you wish to incorporate.
These current 2022 dining room trends focus on the latest colors and textures. In an upcoming post, we will finish off this two-part series by looking at dining furniture styles and details plus a focus on sustainability.