Tips for Using Your Dining Room as Work Space
Today, staying home – to work, to play, to educate, to live our lives – is not only preferred but expected. Of course, your home may not be set up to perform all these functions. With a bit of ingenuity and consideration for all the ways you can use it, your dining room can be adapted to present an ideal solution to modern problems. Luckily, your dining table is easily transformed from merely a comfortable place to gather for a good meal to a school desk, office setup, craft area and so much more.
Start With a Solid Wood Dining Table
While it may seem like a good idea to dust off that old folding table in your basement and use that as your new work desk, think again. Not only is it not sturdy, but it probably isn't the right height, doesn't have a chair that tucks neatly beneath the top and might even sag in the middle, or feature a split where it folds in half.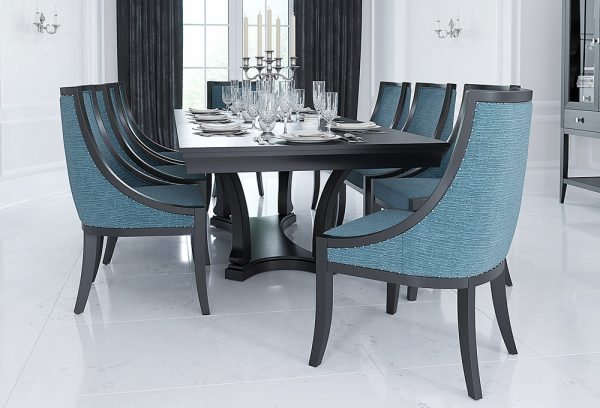 Instead, invest in a fine quality, solid wood dining table as the start of your new home work space. The durable Dover Extension Table set featured here is available with several customizable features (you pick the finish and upholstery colors and tabletop material). It adds gorgeous style to your dining room – whether it's covered with paperwork or plates.
Tip: Choose a solid wood dining table that easily expands, just like the Dover model pictured here. This way the size can be modified for every need, whether it's a cozy area for breakfast, a conference table to meet with clients or a table large enough to accommodate all your guests for a holiday dinner.
Keep It Neat
Perhaps the hardest part of doing everything in your dining room is that it tends to create clutter. The best way to combat a mess is by providing decorative storage space. Remember the old adage "a place for everything and everything in its place?" That is definitely the way to keep your dining room stylish and organized.
Consider adding bookshelves to the walls of your dining room. Why not? Most of us don't use our dining room exclusively for eating meals every day. You could even add a library ladder that slides across racks of tomes to give your dining room a very sophisticated look.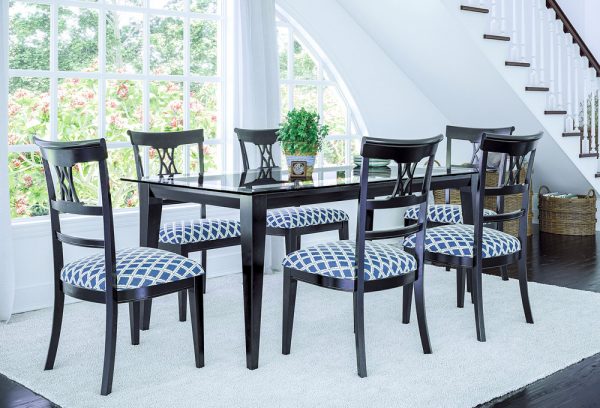 Tip: Storage baskets and decorative boxes are another idea for combating clutter and the ideal place for kids to store their homework supplies. As shown in this room featuring the Emma Dining Table set, baskets stowed under a staircase can easily blend right in with the furnishings while not detracting from the dining room's style.
Transform Your Dining Room Buffet
Yes, the buffet table in your dining room was made to store extra plates, table linens, flatware and the like. But in a situation where it's necessary to use the dining room as work space for your home office or the kids' schoolroom, it can easily stand in as supply storage.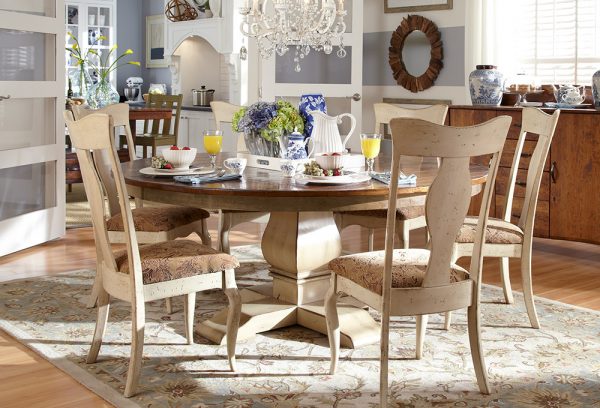 The Winston Sideboard finished in Character Cherry is a great example of a piece that can do dual duty. It could certainly function as a printer stand and even hold trays for files and paperwork. The drawers are an ideal place for stowing pens and printer paper and additional supplies while the generous cabinet space behind doors are sized to hold larger items.
Tip: Add a pair of lamps to your dining room buffet to provide back lighting, especially helpful when you are attending a Zoom meeting from your dining room table.
When your home needs to function as an all-in-one space, using your dining room as work space makes perfect sense.