Tips for Styling Your Formal Dining Room
Do you have a formal dining room in your home? If you own an older home, chances are good that you do. While a dedicated room for eating and entertaining has gone in and out of fashion throughout the past century, it is now making a comeback and for good reason. Although open living and dining areas have been popular over the last several decades, the way we use our home space has changed over the pandemic. Many of us realized that having a separate room for dining – and other activities – just made sense.
Now that we are more comfortable entertaining at home, a formal dining room provides a stylish backdrop for your parties and get-togethers, particularly over the holidays. Take a look at these design ideas for styling your formal dining room.
Good Bones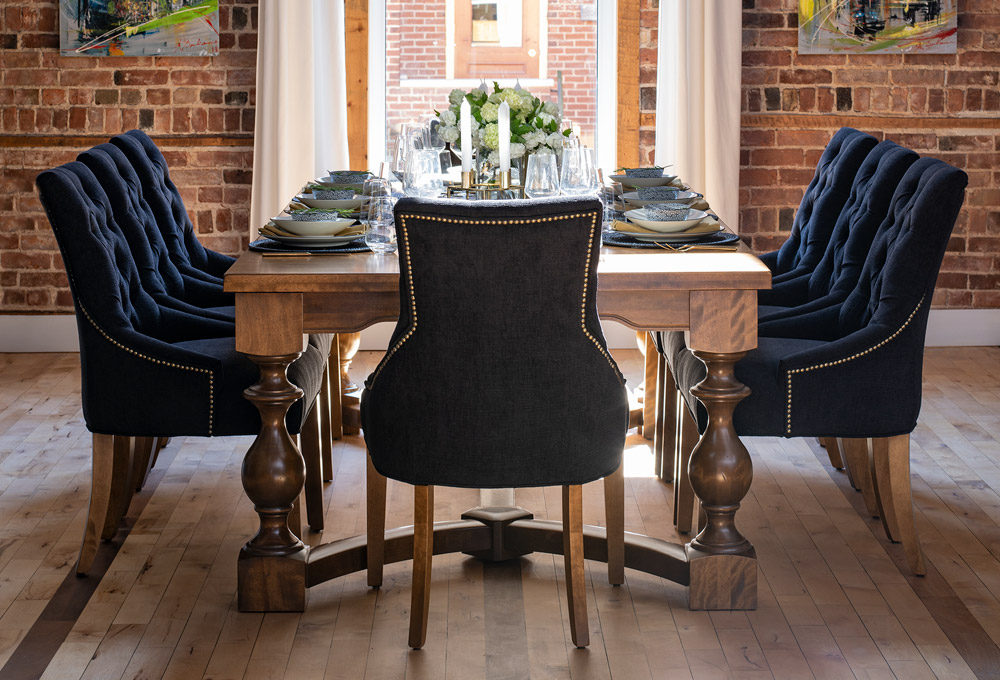 In a historic home such as the one pictured above, it is easy to combine old elements with modern style to create a dramatic look. The exposed brick walls, light-finished solid wood floors and long and narrow window show the home's age in an elegant manner. The Dalton Wood Dining Table Set, although new, features a style that blends beautifully with the exposed architectural elements.
This formal dining room design idea would not achieve such a dramatic effect without the gorgeous, navy blue upholstery and nail head details on the chairs. Not only do these dining chairs look sophisticated, but they also bring extra warmth to the room and promise your guests a comfortable place to dine.
Rustic Yet Formal
Who says that a formal dining room needs to be filled with traditional furniture, antique vases and impressionist paintings? The dining room pictured here is formal, yet quite inviting.
The formal dining design idea centers around the Milo solid wood, live edge dining table set. It looks right at home amid the dual windows of floor-length windows, which bring a sense of nature inside. Its industrial details include a metal tabletop base and splayed legs on the bench. Fine leather upholstery on the chairs clearly indicates this is a quality dining set made for a formal dining room. By keeping the design in this room minimal, the statement dining set takes center stage.
Roomy Warmth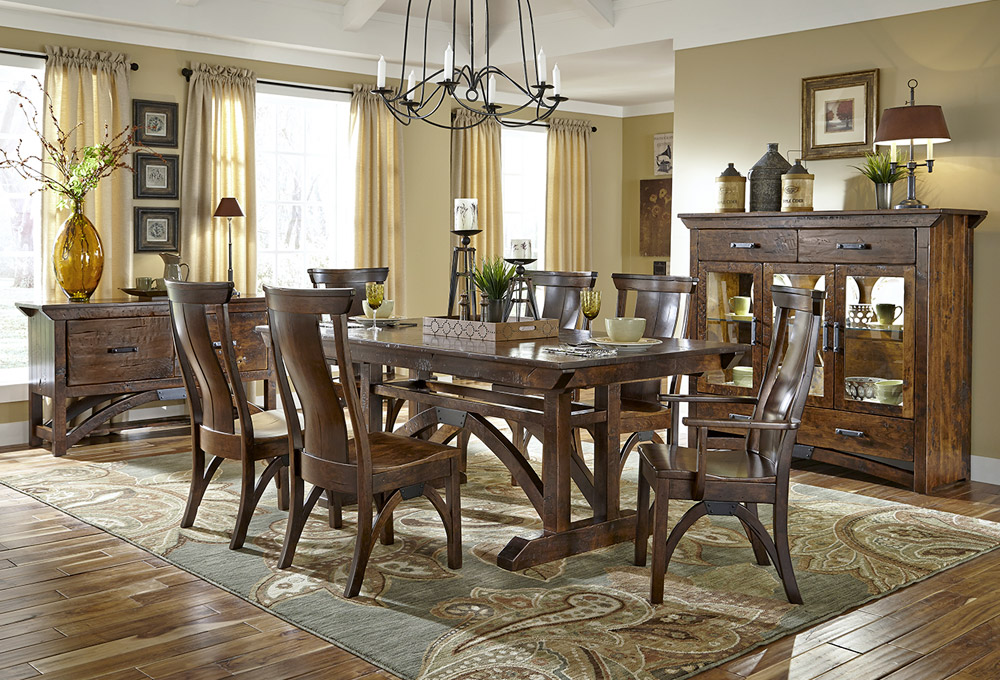 In a large formal dining room, substantial wood furnishings are a perfect fit. The solid wood Pioneer Butterfly Leaf Wood Extension Table Set, along with its matching hutch and sideboard, are the right scale for this roomy space. An area rug with subtle design separates the dark wood of the furniture from the lighter stain of the wood flooring. Traditional floor-length drapes allow plenty of natural light to enter the room when opened. Carefully curated tableware and decorative objects pull the various style and color elements of this formal dining room design idea together beautifully.
If you have a formal dining room in your home lucky you. We hope you can use these design tips to make the most of what you have. We invite you to browse through the rest of our high-quality dining room furniture and find the pieces that will turn your dining room into a showstopper.