The Importance of the Dining Table
We all have them in some form or fashion, and they have been a ubiquitous part of the home for centuries. But do you need a dining room table? Have you ever thought about what a dining table means to you and your family? While not quite an ode, this article reminds readers of the importance of the dining table and why you should pay careful attention to the type you pick out for your home.
Making Memories at the Dining Table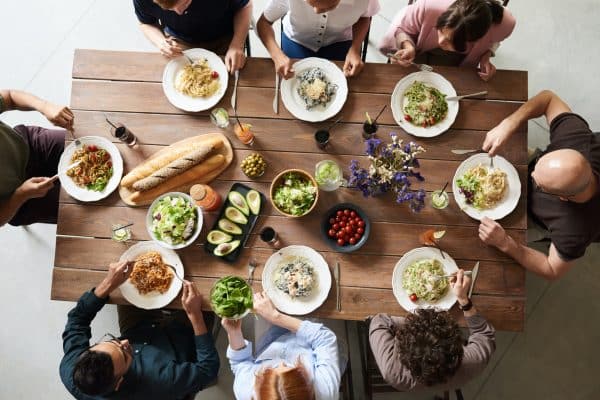 Think back to your childhood. What memories do you have of gathering at the dining table with family and friends? If your dining table could talk, it would probably have a lot to say. As a silent spectator, it has most likely seen you and your siblings grow to where you no longer needed to sit in a highchair or on top a thick phone book to reach the tabletop. It was probably witness to many a meal and conversation. No doubt it held frosted cakes each year when birthdays were celebrated. It may have seen your eating habits change from the snacks kids love to a more grown-up diet. The importance of the dining table is that it provided a space for everyone to commune over food, drinks, holidays, and special events.
Symbolism of the Dining Table
In most cultures, the dining room is a place where positive energy and social connections abound. This room, with a dining table proudly at the center, symbolizes power, status, strength, connection, gathering, and unity amongst people, whether they be family, friends, new acquaintances, or neighbors.
Why the Dining Table is So Important
In recent decades, designers have seen homeowners question whether or not they need a dining room table, and many have taken a step away from having a formal dining room. Where once families looked forward to gathering at the end of day to enjoy a meal and catch up with each other, today family members are more disconnected and more likely to dine in front of the TV or electronic device.
Do we need dining room tables? Maybe not. Yet, something is lost when the dining room goes away. Research has shown that by bringing the importance of the dining table back to the home, families become closer and older people, in particular, benefit greatly from an increase of quality time with each other. Mealtime is the chance to interact, converse, and develop healthier eating habits.
Making Your Dining Room a Comfortable Space
If you wish to stress the importance of the dining table in your home, you must first make it a comfortable place to gather.
Be sure the dining table is large enough to comfortably seat everyone in the family or accommodate guests, as necessary. A solid wood dining table is always a popular choice as it brings a sense of warmth and durability to the room. However, if you have young children and are afraid of possible damage to the tabletop, opt for a modern material such as glass, ceramic or metal. A rustic finish is a good choice for those worried about keeping the dining table looking good.
Choose dining chairs that are covered in soft textures and have plenty of support to encourage diners to take a seat and stay a while. Neutral colored upholstery fabric allows you the most leeway in changing the room's décor if you desire. Opt for dark hues or busy patterns if you are worried about the fabric showing stains.
If you are convinced of the importance of the dining room table enough to know that you do need one in for that special place in your home, we invite you to shop for the perfect piece right now by browsing through our online dining table selection.