Style Ideas for Your Coastal Dining Room
What better to start a new year than with a fresh new vibe in your home furnishings? Here in southern California, a perennial favorite is coastal style. Not only does it make sense based on our location, but it evokes a feeling of being washed clean, enjoying good times on the beach and hearing soothing ocean waves all of which we as humans are so inexplicably drawn toward. If you are looking for furniture design ideas for your coastal style dining room, add these materials, designs, colors, and concepts.
Natural Materials
When you wish to embody coastal style in your dining room, start by assessing the outdoor environment right in your backyard. Natural materials are ideal when striving for artless, beachy design elements. Wicker and rattan pieces are very organic, as are wood furnishings crafted with living edges that resemble driftwood. Sea glass is another idea upon which to draw.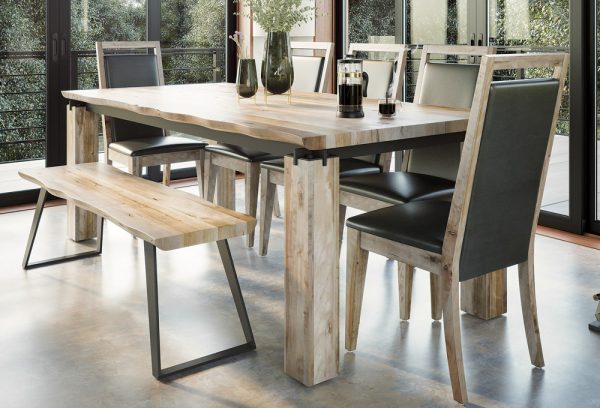 The Milo Live Edge Wood Table is the perfect example of organic material that looks perfectly at home in a beachside environment. It is made of solid, North American-sourced birch wood, but is also available with a glass top. The light gray upholstery on the chairs really helps the entire set look and feel as if it washed up on the shore.
Organic Design
Another way to enhance coastal décor is by incorporating light and airy design. Think of materials woven into a basketweave or zigzag pattern and seagrass-type textures.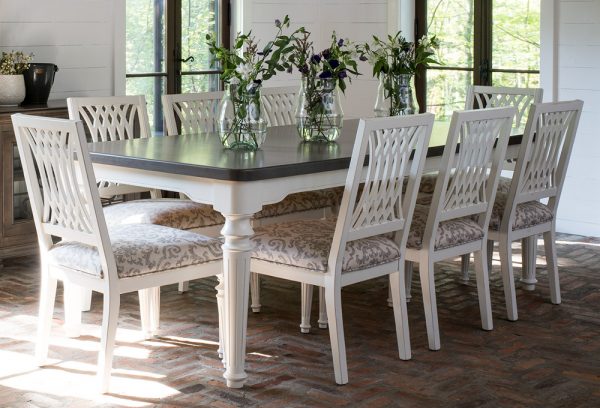 This Mia Extension Table Set embraces the concept of airy, organic design with its lattice-backed chairs. The set of 3 glass vase centerpieces further the light, fresh look of this coastal style dining room.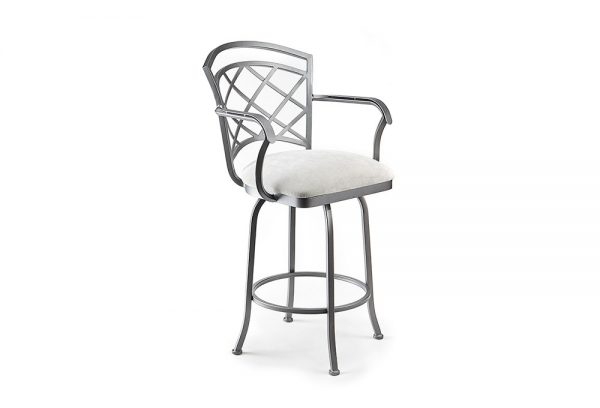 The Penelope Swivel Barstool pictured here is another great example of organic elements with its crisscross pattern and gently sloping back and arms.
Coastal Color
When choosing a range of hues in your dining room, opt for light colors, such as grays, whites and whitewashed finishes. You can also choose to focus on a single color, such as blue or green, and incorporate varying shades of that color and accent with its opposite. With blue, splashes of orange are the perfect foil to those cool tones.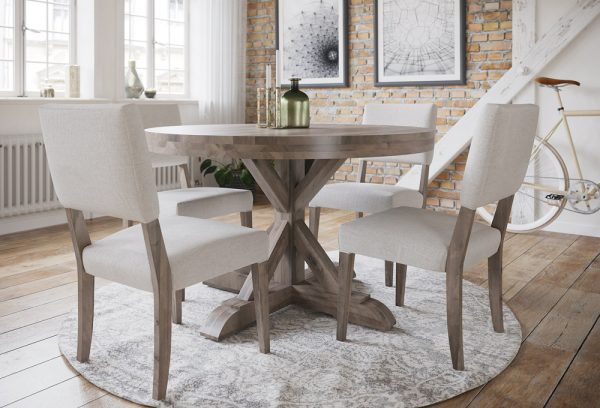 This Finn round wood table and chairs are finished in a neutral color upon which you can expand the coastal dining room style. The white upholstered chairs enhance the light color scheme and the decorative bike in the background screams casual, beachy accessory.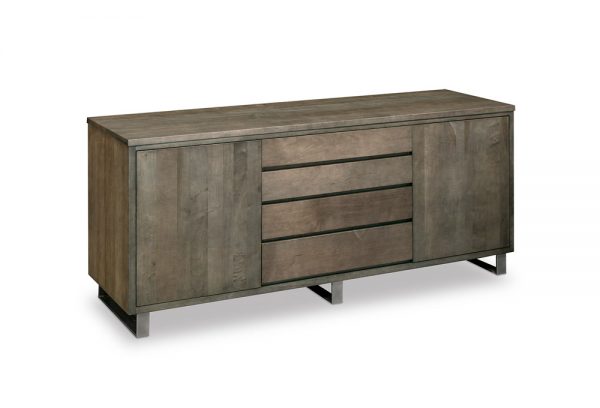 If you need extra storage, add this Brennen Buffet, pictured here in a gray washed finish evocative of sand-scrubbed driftwood. This buffet is also available in other wood species and finish colors.
Light and Airy Design Concepts
Coastal design is light and airy. Keep it that way by shunning dark, heavy wood pieces and boldly colored upholstery and opting for things like glass topped tables and stainless steel chairs. Glass is a natural element that looks right at home in San Diego because it allows sunlight to shine through and further illuminate the room.
The Lincoln Glass and Wood Table pictured above really brings home the concept of light and airy furnishings as it lets rays of sun flow through both the contemporary base and the glass top. The chairs are casual and comfy, while the light fixture gives the entire room a mid-century modern vibe.
We hope these design ideas for your coastal style dining room will inspire you to go fresh, light and airy with the style.