Solve Dining Problems with Extendable Dining Room Tables
Whether it's a holiday meal, a family get-together or an involved school project, there are plenty of occasions when your dining table just does not offer enough area to accommodate your needs. Luckily, there is no need to settle for a single-size-fits-all solution. With extendable dining room tables, it is easy to solve any of your dining problems due to lack of space. This year, why not plan ahead and shop now for a new dining room that can be extended?
Plenty of Modern Options for Extendable Dining Room Tables
If the last dining room table you owned with an extension involved storing extra leaves and wrestling with the two sides to insert them, you are sure to be pleasantly surprised by today's dining tables. Many of our models include leaves that slide underneath the tabletop, at the ready when you need to make your dining table bigger. There are even glass expandable dining room tables. They are available in many different shapes and sizes, as well, to fit nearly any space. Dining tables with extensions are a perfect addition to a large, open living area so popular today as they bridge the gap between eating, living and entertaining in style. Here are some of those styles that fit into any home décor.
Modern Industrial Style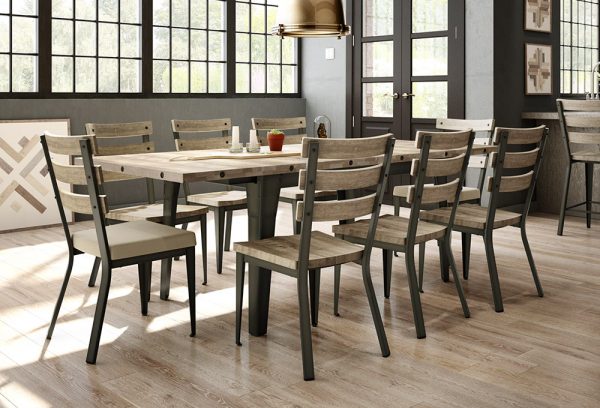 Modern industrial style surged in popularity some years ago and it is not showing any signs of slowing down now. The Carter Expandable Dining Table shown here is the epitome of this style. It fits easily into any space when it seats four, but it instantly doubles to seat eight with integrated leaf storage and a handy mechanism that opens and closes the top to reduce or expand its size. And if the distressed hues in the details shown don't perfectly fit your dining room décor, you can choose your own metal finish color and minimalist wood top finish. The Carter Expandable table is a great choice for everyday, casual meals as well as holiday dinners when you need extra space to serve family and friends.
An Island and a Table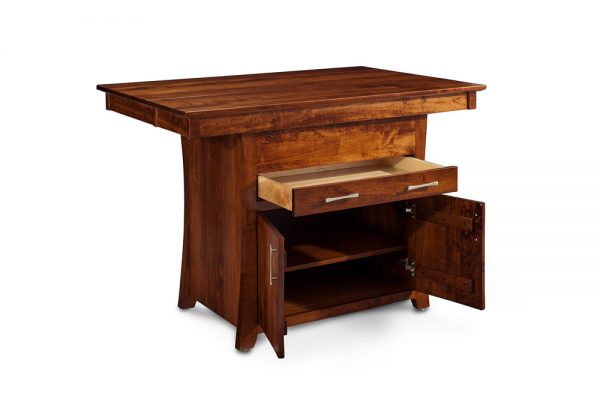 The Miller Island Extension Table is one of the niftiest dining tables we've seen. Ordinarily, it provides an intimate dining experience and additional workspace in your kitchen. But, thanks to the 18" butterfly leaf, it also extends to make adding diners a breeze. This island table also features a large sliding drawer and storage compartment that makes it ideal for small space living – no need to compromise style and quality. Custom options include your choice of wood species and finish (there are lots of different combinations to choose from) and hardware. There is also a matching sideboard and cabinet in this solid hardwood collection.
A Glass Extension Table? Yes!
The Isabella Glass Extension Dining Set is a beautiful example of modern engineering. The expansion table is made from solid birch and topped with an expanse of easy-to-clean glass. This modern extension dining table is a great choice for families with kids since the tabletop wipes clean even after painting projects or papier maché crafts. And this is one is truly customizable. It is available in your choice of shape and size. In addition, you can select the glass color and wood finish you prefer. You can also choose the number of leaves you want so the Isabella extension table can comfortably fit large crowds.
What dining problems do you have? With extendable dining room tables, chances are you can solve nearly all of them, whether you need more work space, additional seats, handy storage these are a great choice.