Restaurant Design Ideas for the Home
When you think of a relaxing, beautifully designed place to eat, chances are your mind goes straight to your favorite restaurant. That is no surprise. After all, restaurant designers are in the business of creating spaces that appeal to more than just your taste buds. They artfully furnish and select accessories meant to work together and embody an ambience that makes you want to visit, enjoy a fantastic meal and linger over a cup of coffee and dessert afterward. Why not incorporate restaurant design ideas into your home dining room? Here are several ideas to help you do just that.
Counter Seating
If your fave place to eat is a good, old-fashioned diner or a restaurant that includes a bar, it is likely to include counter seating. We do not always wish to dine formally at a table and chairs. Incorporating counter seating in your home is ideal for get-togethers with friends and family, particularly if you are serving food family style as it gives everyone access to the dishes. A hurried breakfast is also often enjoyed sitting on a barstool at a kitchen island.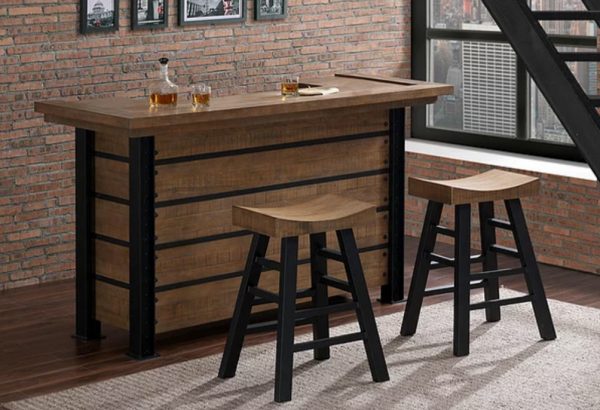 If your kitchen doesn't include an island or counter for seating, you can easily add one with a bar set such as this one. The Victor Bar Set with stools is small enough to fit into nearly any nook or corner and instantly adds a cozy place to drink and dine at the "counter."
Luxurious Dining Seating
Restaurant design ideas revolve around the concept of getting patrons to sit and stay for a while. After all, the longer you stay, the more you will drink and eat. That's why they often use luxurious seating to ensure your ultimate comfort. Think pieces finished with plush upholstery, deep armchairs and swivel and tilt chairs and barstools. Rounded shapes also add to the sensual appeal of luxurious dining seating pieces.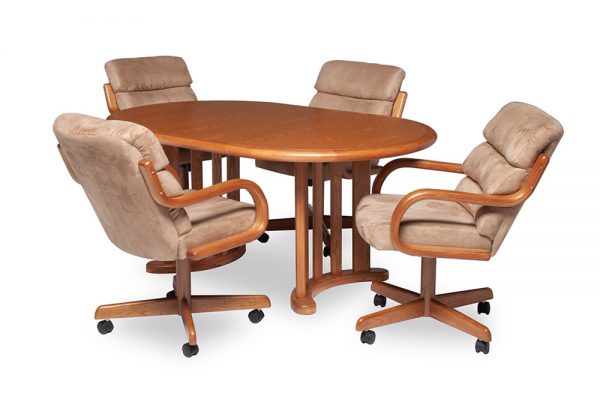 This Triple Round Extension Table and Chair set (note the lovely, rounded support of the table base) exemplifies luxurious seating. The upholstery is deeply padded and the chair backs are a perfect height to lean back while propping your arms against the armrests. They swivel and tilt, too, for maximum, moving comfort.
Bold, Rich Color Scheme
Another way that our favorite eating establishments lure us in is with rich and bold colors used throughout the space. Light hues and neutrals are just so-so, but when you add pops of deep colors such as navy, emerald, ruby and gold, it makes the room palatial. These bold colors also tend to be stimulants of both appetites and conversation and make a large room feel more cozy – concepts used often in restaurant design ideas.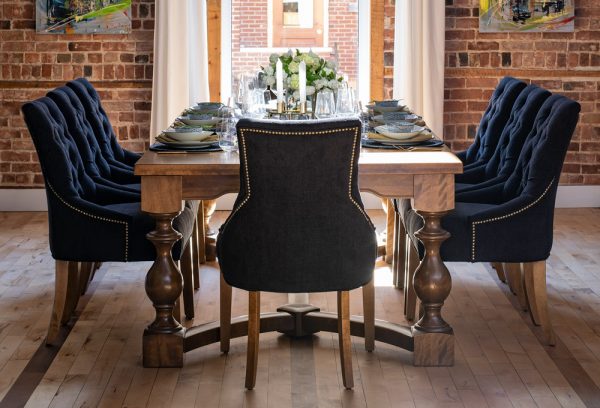 This Dalton Wood Dining Table Set really looks opulent due to the velvety, dark blue upholstered chairs with decorative brad detail. Add a set of ruby red drapes and a floral centerpiece that ties in all the colors of the room and you've got a dining room that rivals any high-end restaurant.
We hope these restaurant design ideas for the home will inspire you to create a supremely comfortable dining room with an ambience meant to make you enjoy every meal.