Open or Closed? Key Measurements by Type of Dining Room
What type of home do you have? The answer largely depends on the age of your home. Older houses were made with closed off, separate dining rooms while newer homes are often constructed with open and undefined areas for eating and living, although the trend is swinging back again to separate dining space. In either case, it can be a challenge to find furnishings that fit the space perfectly. Read on for tips to determine key measurements by type of dining room, allowing you to use all the available square footage when in use and when not.
The Closed Dining Room
If your home has a traditional layout with a room dedicated to dining, chances are you have a generous amount of space to work with. This is the type of dining room for which long, rectangular tables that may be extendable were made for. Because the entire room is set aside for dining, the key measurements by type of dining room in this case take into account additional pieces, such as a sideboard, hutch, buffet or china cabinet.
In order to accommodate a dining table set and extra furnishings, the dining room should be about 15' wide by 20' long, with a minimum of 14' x 16' necessary, including the door opening.
Contemporary Dining Rooms
If your home is of contemporary style with a closed dining room, you will want to keep the furnishings clean and unfussy, allowing for a clear line of sight throughout the space. Opt for glass tabletops, chairs with slender legs and a chandelier that reflects the light in the room with brass or crystal fixtures.
With just the necessary pieces in a contemporary, closed room, the key measurements by type of dining room decrease to a minimum of 11' wide by 12' long. This allows for 36 – 42" around each side of a 36' x 72' dining table with chairs.
Open Floor Plan Dining Area
In more modern homes, the dining area is often part of a bigger, multipurpose room that includes a living area and possibly even the kitchen. This arrangement comes with its own set of issues in that there is very little wall space available to add extra furnishings such as a buffet, sideboard, or hutch. You may want to shop for a tall cabinet enclosed with glass to solve the problem of storage in addition to allowing for a natural separation between areas.
The cabinet can be as wide as you want but do be careful that the depth allows for enough space between the dining chairs and the furnishings. That measurement should be about 36" from the edge of the dining table, in most cases, but increase it to 54" if you have a family member or regular guest who uses a wheelchair.
Make Sure There is Enough Room for Traffic Flow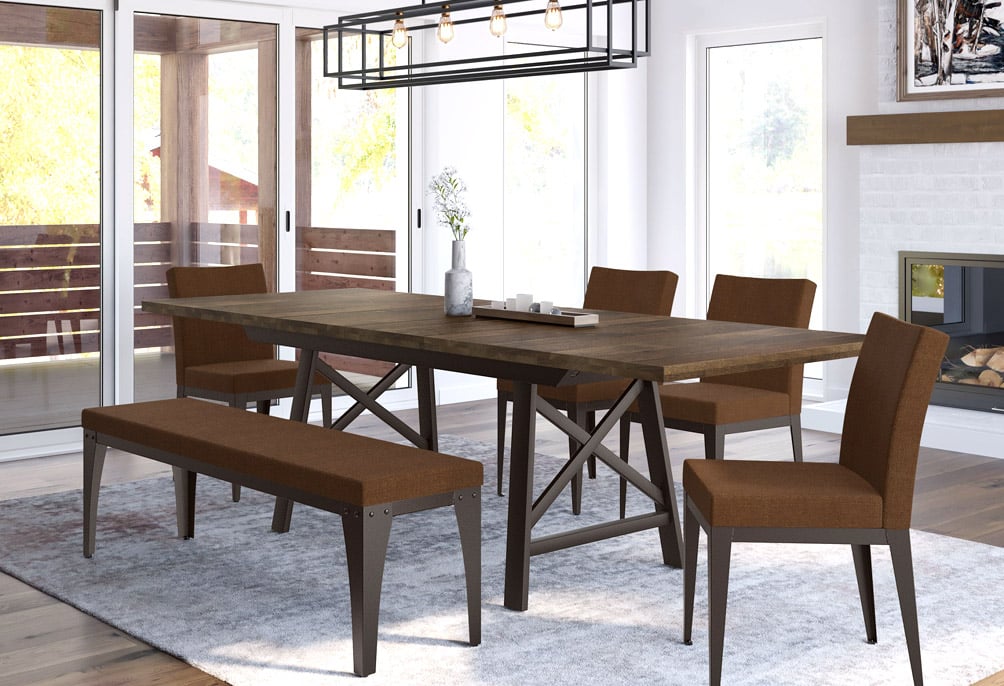 In an open concept dining area, key measurements by type of dining room should also take into account the short edge of the dining set so that traffic can easily pass by from the kitchen to the living area. Creative solutions that leave at least 48" to 60" beyond the dining table edge to allow for sufficient circulation might include changing the orientation of the table set so that it runs lengthwise instead of horizontally across the space.
We hope this article on key measurements by type of dining room was helpful in terms of shopping for and designing your dining area.