How to Choose the Right Stools for Your Counter or Island
Barstools, counter stools, counter height seating – which one do you need in your kitchen or dining area? It can be difficult to decide from all the styles and designs and options available today. The idea is to select stools of the right height, the right material and a style that fits with your existing décor. They should be comfortable and be in proportion with other elements in the room, especially when it comes to stools for your island. These are things to consider when you decide how to choose the right stools for your counter or island.
Material
Today, there are plenty of different materials available in counter stools and barstools. Which you select depends on your style, level of comfort and durability.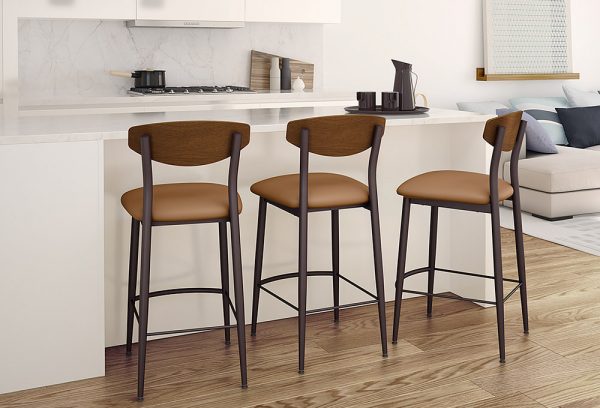 Metal has become an increasingly popular choice thanks to the prevalence of modern industrial and farmhouse styles for the home. Metal stools are quite sturdy and easy to clean – a bonus if you have a house with small kids and pets. Plus, a stool with metal base can easily be topped with an upholstered or wooden seat for added comfort.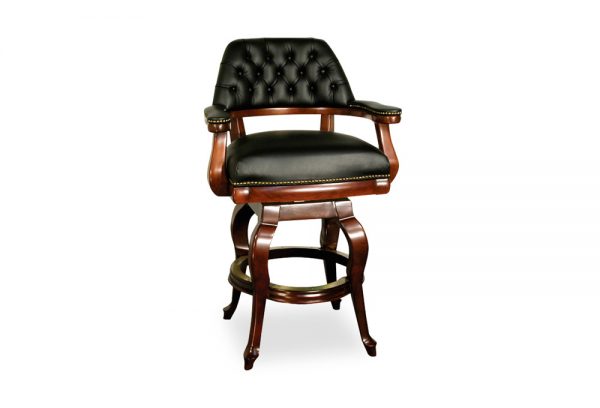 Barstools made from solid wood are another durable choice. These bring an organic element to your kitchen or dining area. Available in a wide variety of finish colors, they can also easily be refinished as your décor changes. The seats are more comfortable than metal and can be made even more so by adding colorful cushions. Wooden barstools work particularly well in a rustic, traditional or country style kitchen.
Finally, molded plastic barstools are one more option. These are often seen paired with islands or countertops of Scandinavian or mid-century modern design. They are a snap to clean but not as durable as metal or wood. Plus, their unique style can be difficult to incorporate in your existing kitchen – or completely dominate other furnishings and fixtures.
Back Height
Another choice when it comes to determining how to choose the right stools for your counter or island is the back. From a design standpoint, decide whether you wish your stools to make a statement or be a low-key addition to the space.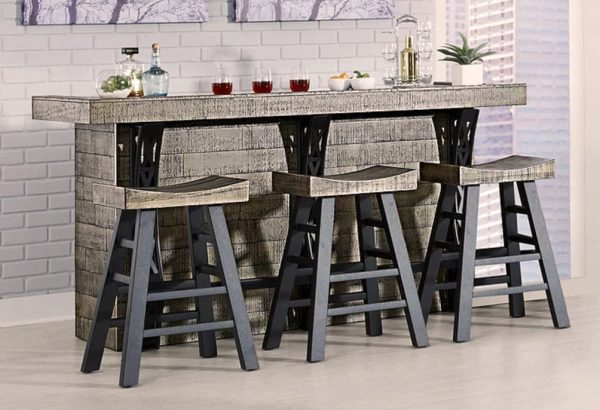 Some models are backless; the advantage with these is that they tuck neatly underneath the overhang of the counter or island. They do not dominate the other style aspects of the room, instead taking a back seat to the island itself.
Next up is a low back. Once again, these counter stools offer a lower profile and won't stand out too much amongst other pieces of décor. They will provide lower back support, but not in an obtrusive manner.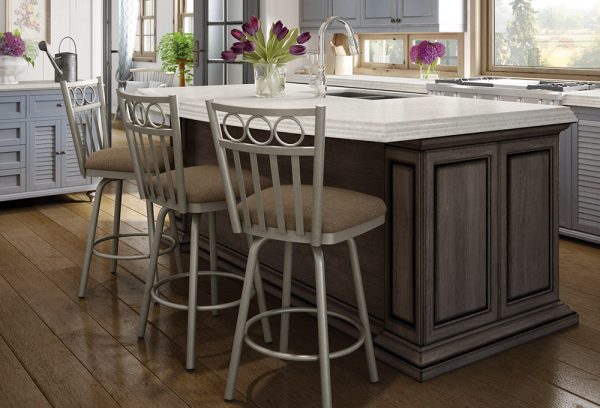 A high stool back is another option. Whether the stool is made of metal or wood, these tend to be bigger pieces and provide the most support. A drawback is that they tend to take up more space and you may not be able to fit more than three or so, especially with a small island or short counter.
Other Considerations
As mentioned, bare metal or wood tends to be a bit uncomfortable when sitting for any length of time. Most of our customers prefer some type of cushion. For an upholstered barstool, you can opt for fabric or leather. The former is available in a wide array of colors, while the latter is the easiest to keep clean. Seat upholstery is a feature that not only helps stools feel better, the added pop of color can make a design statement.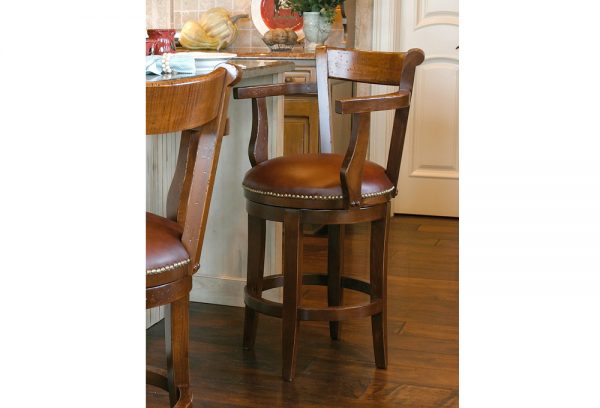 Think about arms for your counter stools, as well. Once again, stools with arms tend to provide more comfort. They do take up more space, however, so you will be limited in the number of armed stools that will fit along a counter, bar or island.
Now that you know what features to consider, it should make figuring out how to choose the right stools for your counter or island a bit easier.