Everything You Need to Know About Bench Seating
Bench style seating has been used in the dining room for centuries (think the dining hall in a Viking stronghold) and there are several reasons why. In this article, we explore the various reasons you might want to incorporate bench seating in your dining space. We will also go over types, styles and ideal bench height measurements so you can make an educated choice about bench, aka banquette, seating.
Why Choose Bench Seating
The number one reason most homeowners choose a bench or banquette style seating for their dining area is to save space. They are typically placed along a wall if not needed every day; by moving the table out from the bench just a bit, diners can seat themselves by sliding to their place. Banquettes can also go on the side of the table opposite the wall if your goal is to provide an obstacle-free pathway as benches can be scooted completely under the overhang of the dining table.
Dining benches are also a great way to add additional seating for more guests. Depending on the length of the bench, it can seat two to four diners.
Bench style seating is aesthetically appealing. These alternatives to chairs allow for good visual flow throughout the dining room, making the space look bigger. This is a factor to consider if you have an open concept living/dining area. Dining benches also create a lower focal point.
Bench Dimensions
Typically, dining benches are between 42" and 60" wide. On the lower end, this will provide seating for two people. One that is between 53" and 80" can easily accommodate three diners. For a larger number of people, you will have to go with a bench that measures up to 80" wide.
Height is another dimension to consider. Counter height benches are typically 24 – 27" measuring from the floor to the seat. For a standard dining table, you will want the ideal bench height to be 16 – 23" high.
Padded or Not?
An issue that many homeowners bring up is the comfort of a bench for dining. While solid hardwood looks beautiful, the bench will be much more comfortable with the addition of padded upholstery. If your ideal bench does not include an upholstered top, you can add a separate cushion that can be tied to the legs to keep it in place.
Another way to make bench style seating more supportive is to add a back. Of course, this is not a good option if your goal is to save space in the dining room.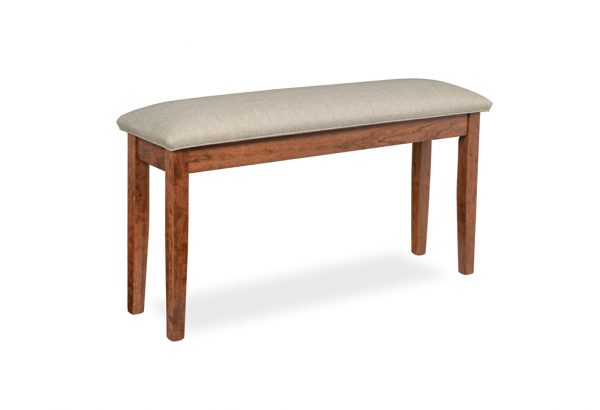 Many of our benches are available with optional upholstery on the seat. The Thomas Counter Height Fabric Bench shown above can also be ordered with a plain wood seat.
Styles and Designs
Even though it is just another form of dining seating, benches have specific styles, often enhanced by little details.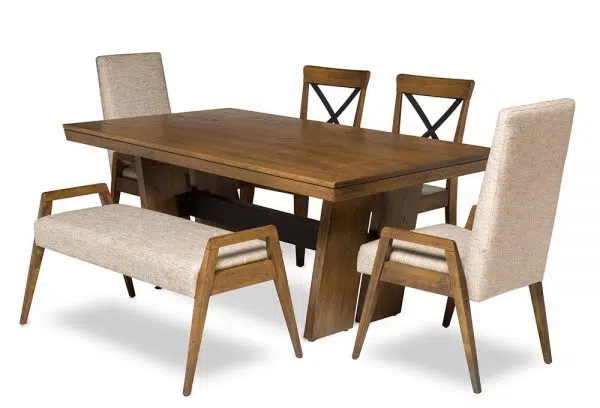 For instance, this Veti Bench screams midcentury modern style due to its angled wooden legs and side handles cleverly designed in the wood frame. The tweed-y upholstery fabric is a perfect choice for homes with midcentury modern décor.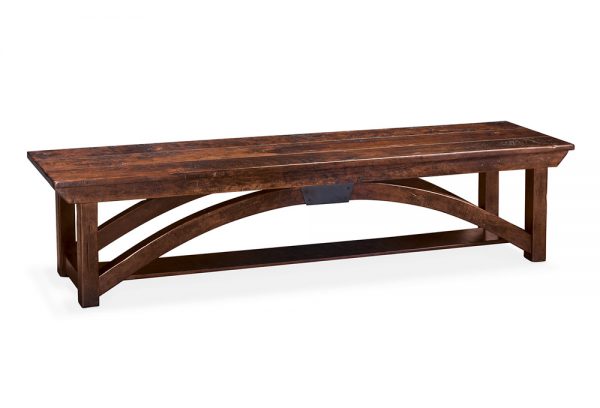 In homes where a traditional style is preferred, you may want to consider an all-wood bench with a simple form. We particularly like the Mission style of the Pioneer Bench pictured above. It is heavy and durable, with a slightly weathered finish that makes it resemble an Old-World California antique.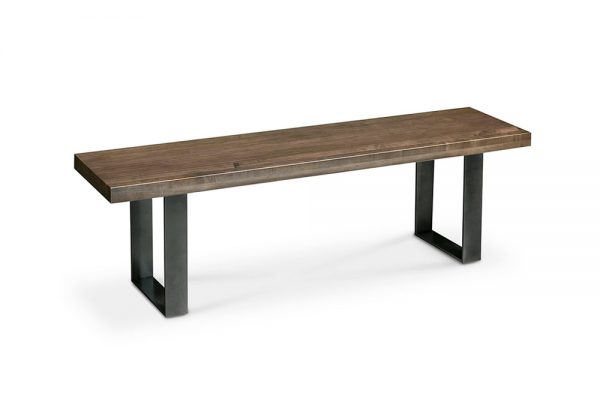 If your tastes run more toward the contemporary, the Brennen Bench, with its solid hardwood set and angular, metal legs is perfection. It is a great choice in a dining room where you want light to flow through the space.
If you have any other questions about dining bench style seating, please feel free to ask any of the sales professionals at Casual Dining and Barstools.