Essentials for a 5 Zone Kitchen
No doubt you are aware that our lives, homes, and lifestyles have changed drastically over the last several years. Not only did we go through a pandemic, but many of us started working from home and that caused a major shift in how we think about and use our space. One of those areas in the home that underwent a big transformation is the kitchen. In this article, we will examine all the essentials for a 5 zone kitchen, including what it is and how it can benefit you and your family.
3 Zones to 5
Traditionally, most kitchens were designed with three-zones in mind. The kitchen was largely used only for cooking and separated from the living area. Think of the space as a triangle. The rule of thumb was to set up your kitchen with just a few steps between the oven/stove, the refrigerator, and the sink to make grabbing food, cooking it, and cleaning up easier. If you have a small kitchen, then the three-zone approach will probably still work fine.
In today's homes, many kitchens are open to the living area or connected to another room, such as a dining room. That means the space you are working with is much larger than in years past. Plus, most kitchens include an island, prep space, or built-in computer desk. We now regularly use our kitchens for more than just cooking. Often, the kitchen is used for remote work, homework, games, entertaining, and so much more.
What is in a 5 Zone Kitchen?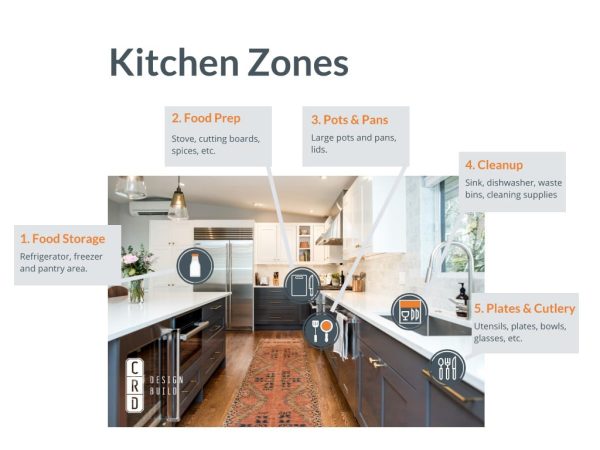 In addition to an area for storing food (pantry or refrigerator), cooking it (oven, stove, microwave) and cleaning it up (sink, dishwasher, trash can), the two additional zones often included in a 5 zone kitchen are a prep area and a non-consumables zone. These refer to an island or dedicated counter space such as a slab of granite for rolling out pastry dough plus a place to put cooking essentials like dishes, pots, and pans, which may be displayed out in the open.
Our Best Picks for a 5 Zone Kitchen
The key to making a 5 zone kitchen work for your home is to ensure that it has an open floor plan and multifunctionality. A statement piece makes the space decorative and draws the eye while adding stylish accessories allows you to show your individual preferences.
To achieve the right look and the right functionality, try incorporating these pieces into your 5 zone kitchen.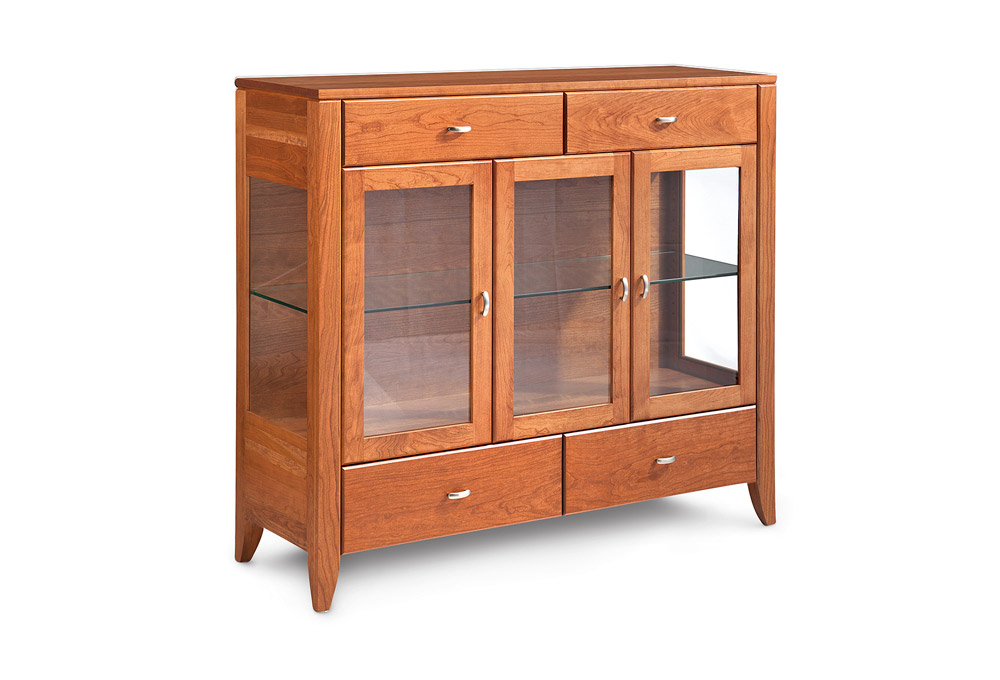 The Marie 3 Door Dining Cabinet with Glass is a great addition to your revamped kitchen. It provides plenty of space for a non-consumables zone. The glass front doors allow your pretty pieces to be shown off, yet they are easily accessible when needed. The four drawers are perfect for storing extra utensils, place mats, tablecloths and the like.
To add more space for a prep zone, we recommend the Miller Island Extension Table. If you do not already have an island, this solid hardwood beauty provides a great spot for dicing vegetables, rolling out pie dough or assembling ingredients mis en place style. The additional storage drawer and compartment help corral extra kitchen accessories and small appliances.
Lastly, to augment your entertaining space, consider this Theo Counter Height Table with barstools. Because it is counter height, this set can be nestled between the kitchen and living spaces, creating an even and unobstructed flow between the two areas.
Are you ready to transform your home with a 5 zone kitchen?