Dining Room Furniture Trends to Look For
With 2021 fast approaching it is time to start thinking about updating our residences with the latest in home furnishings. Don't we all deserve a fresh start, especially after last year? You may wish to start with the place where many of us spend much of our time: the dining room. With that in mind, let's examine some of the most exciting dining room furniture trends to look for in the new year.
Color and Texture
It is always easiest to start redesigning a room by choosing a neutral color upon which to build. Beige and cream are perennial favorites and feel a bit warmer than previous years' trends of cooler gray and blue tones. If you will be using a lot of neutrals in your dining room, add visual interest by incorporating various textures. A nubby or tweedy upholstery on your dining room chairs fits the bill. But do not forget about what is under your feet; a textured rug of sisal or Berber is a perfect foundation for your new dining room set. For added pops of color, opt for colorful dishes, centerpieces and artwork.
Contemporary and Rustic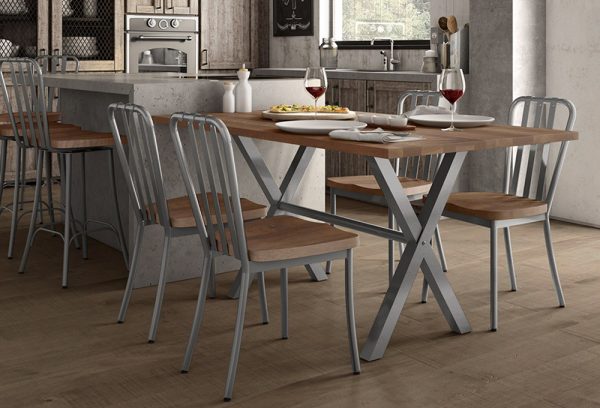 The industrial and farmhouse furniture design trends have been around for some time. This year, why not give them a fresh spin? Mixing materials keeps the look from being overdone. A dining table crafted from reclaimed wood is a large piece that becomes the focus of the room. But instead of matching chairs or benches, try contrasting the rustic look with sleek metal chairs or even chairs upholstered in bright leather. Another great contrast is incorporating warm, fall-inspired hues to offset the industrial metal touches.
Darkness and Light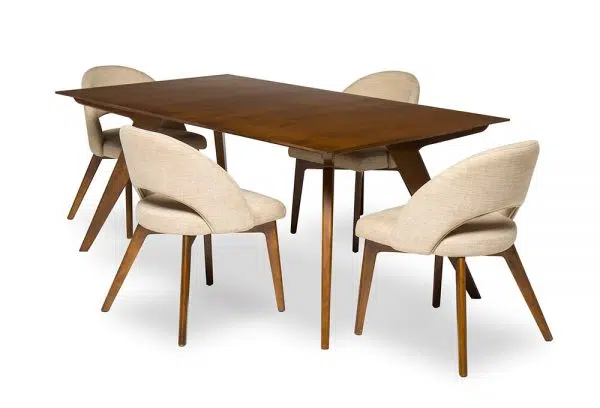 Here is another way to use contrast and visually modernize the design of your dining room: using dark wood furnishings coupled with chairs upholstered in light colored fabric or leather. These dramatic dining room furniture trends make your space look more modern yet traditional, especially if you opt for classic wood species, such as mahogany, and upholstery patterns like paisley or florals. Finish off your dark and light dining room with spectacular artwork that ties together all the difference hues and tones.
Go Bold with Table Design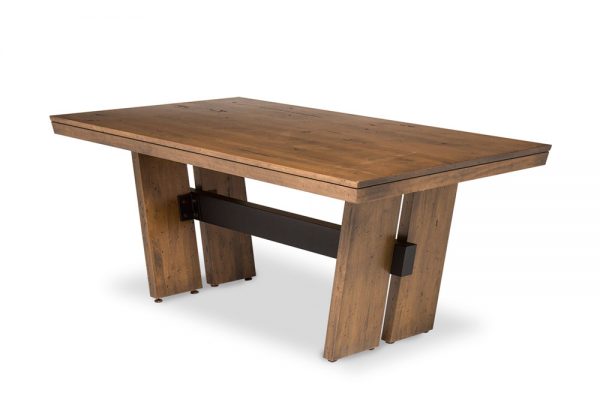 As previously mentioned, your dining room table is the focus of the room. For a fresh 2021 design, opt for a dining table with bold table legs. There are plenty of designs to choose from, including farmhouse-inspired X-shapes, elegant pedestals or chunky columns. In order to keep the focus on the dramatic dining table base, pair it with simple, streamlined chairs that allow your line of vision to flow through to the other side.
Get Benched
Here is another one of the new dining room furniture trends that really goes to show everything old is new again: dining benches. We like the casual feel dining benches provide in an otherwise elegant dining room. Plus, they are practical, especially when your space is limited, as they easily slide underneath the table when not in use. Dining benches also allow you to push the dining set flush against a wall for even more space. You can go with a bench on a single side of the table or use a pair on both sides depending on your style aesthetic.
We hope these dining room trends to look for in the new year have got you thinking about ways to refresh your living quarters.