Casual Dining's Newest Dining Sets
If you have not browsed through the offerings on our website recently, you might be interested to know that we have welcomed a few new dining pieces. All feature fresh designs combined with great quality and environmentally friendly provenance. Read on to find out all there is to know about our three newest dining sets: Aara, Harlow, and Trevor.
Aara Wood Dining Table Set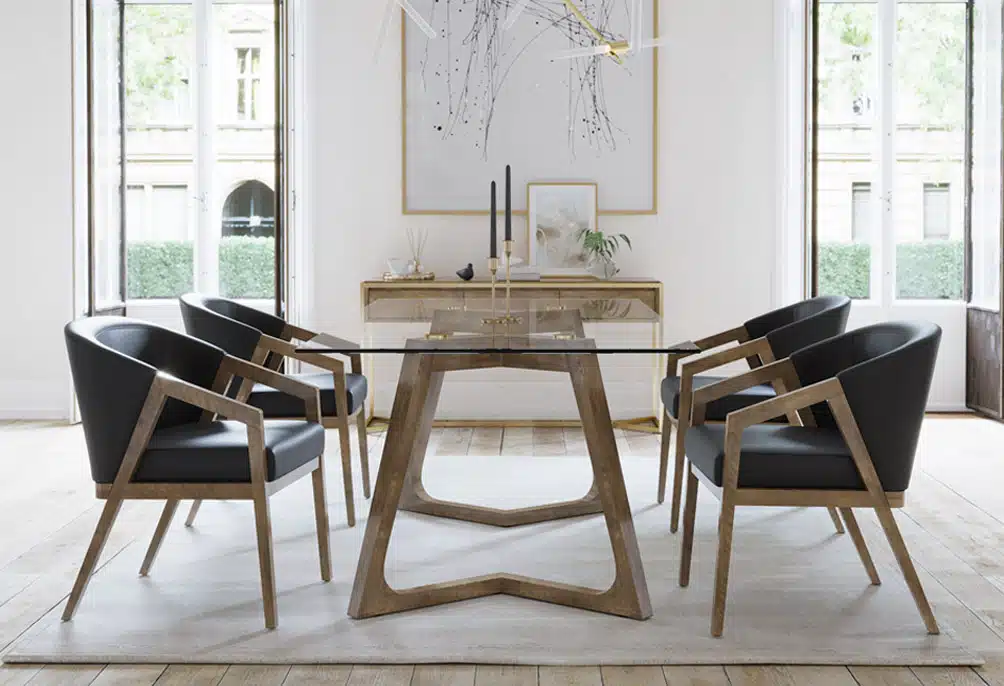 With its clean lines and contemporary good looks, the Aara Wood Dining Table Set is a natural addition to a home of modern or midcentury modern style. Elegant flow and geometric shapes abound in the lines of the armchairs and the base of the table.
The Aara's contemporary take on dining is softened by the deep upholstery on the chairs and the warmth of the solid wood frame fashioned from birch wood sustainably forested and sourced in North America. If you are looking for furniture that is made using environmentally friendly processes, then look no further than the Aara dining room set.
As one of our newest dining sets, you will be happy to note that there are many ways to customize the Aara dining table and chairs. There are several options for the table base, shape, size, height, and tabletop edge. You can also choose from a glass or solid birch wood tabletop. The chair legs can be customized, as well, along with the type and color of fabric or leather for the seat upholstery. Lastly, you get to choose the type of finish that will look best in your home's dining room.
Harlow Wood Dining Set
The second of our newest dining sets is the Harlow Wood Dining Set. This one is a real stunner, with its beautifully crafted wood table and chairs with brass finish legs. The modern style is aesthetically pleasing and would look right at home in nearly any type of dining room, from traditional to transitional to contemporary. While we love the dramatic contrast of the ebony finished wood table and white upholstered chairs, the choice of colors is entirely up to you.
The Harlow Wood Dining Set is made from solid birch wood that comes from forests in North America. It is harvested and the furniture is created using only eco-friendly methods.
The Harlow dining table comfortably seats six diners although, just like the Aara table, it can be ordered in a custom size, height, and shape.
Trevor Expandable Oval Dining Table
Finally, the last entry in our newest dining sets is the Trevor Expandable Oval Dining Table. This one sports a contemporary style, too, but with an oval tabletop made from birch veneer. The size is 38" x 72" and the table includes a 24" butterfly leaf that extends it even further so you can seat up to eight diners.
The metal base is available in a variety of finish colors, as is the wood veneer tabletop. If oval isn't a favorite shape, then select rectangular, with or without radius corners.
We hope you have enjoyed getting to know our three newest dining sets. Which would be the perfect choice for your dining room?