Casual Dining Room Design
Many of us remember growing up in homes with a formal dining room, real china and silverware and a big hutch full of special dishes. However, our modern lifestyles have changed, especially during the pandemic as we learned to use our space in all sorts of unique ways. There is no reason to go back to stuffy and formal now. Check out these informal dining ideas that celebrate casual dining room design.
Part of the Kitchen
This informal dining room design idea is a contemporary trend in many homes designed in the last decade or so: gone is a dedicated dining room and in its place is a large, open living area where families can casually prepare dinner, watch TV and enjoy a meal together. The dining area pictured above shows off this trend by using a rustic Samuel extension dining table and padded chairs in a design that flows naturally from the adjacent kitchen. It's casual and it's fun – a great place for the family to get together while food is being prepared. Everyone is sure to hang out in this kitchen slash dining room all the time.
Natural Simplicity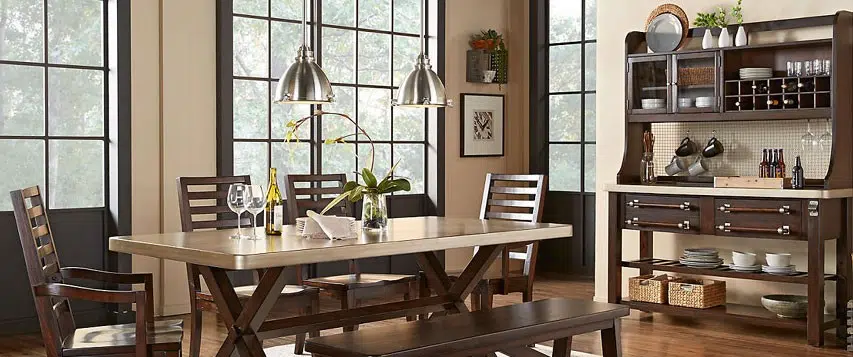 Here is a casual take on a traditional dining room design. The furnishings are not so much rustic as designed in a time-honored way. Made with solid hardwood, this informal dining room set with bench seating and matching hutch is made to last. It still provides plenty of space for special occasion dinners but there is nothing stuffy or formal about this dining room. The open shelving and wine rack look right at home, inviting diners to take their pick of beverages while the neutral colors give the space a homey feel. Add pops of color with special dishes displayed in the hutch and a bouquet of fresh flowers on the table.
Contemporary and Clean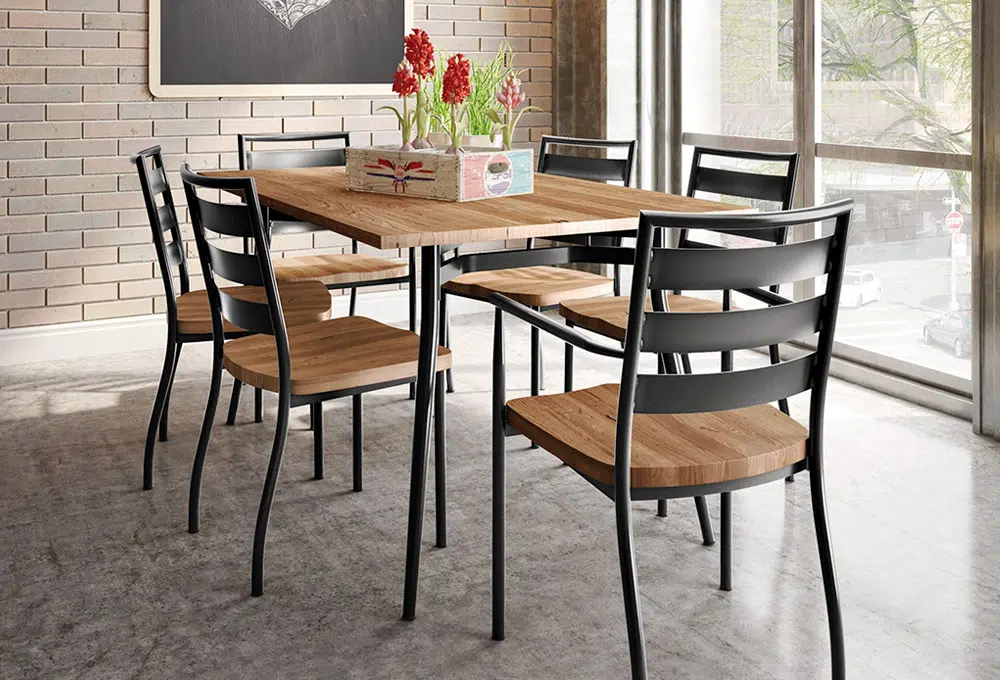 We really love the clean lines of this simple, yet gorgeous Jayden Dining Table Set. The metal chair backs and table legs bring a contemporary vibe to the space while the golden tone of the wood warms it up. The old soda box with an array of spring flowers emphasizes the whimsical side of this casual dining room while the brick wall lends a rustic touch. This is casual dining room design idea that looks perfectly at home in an urban setting.
Elegantly Casual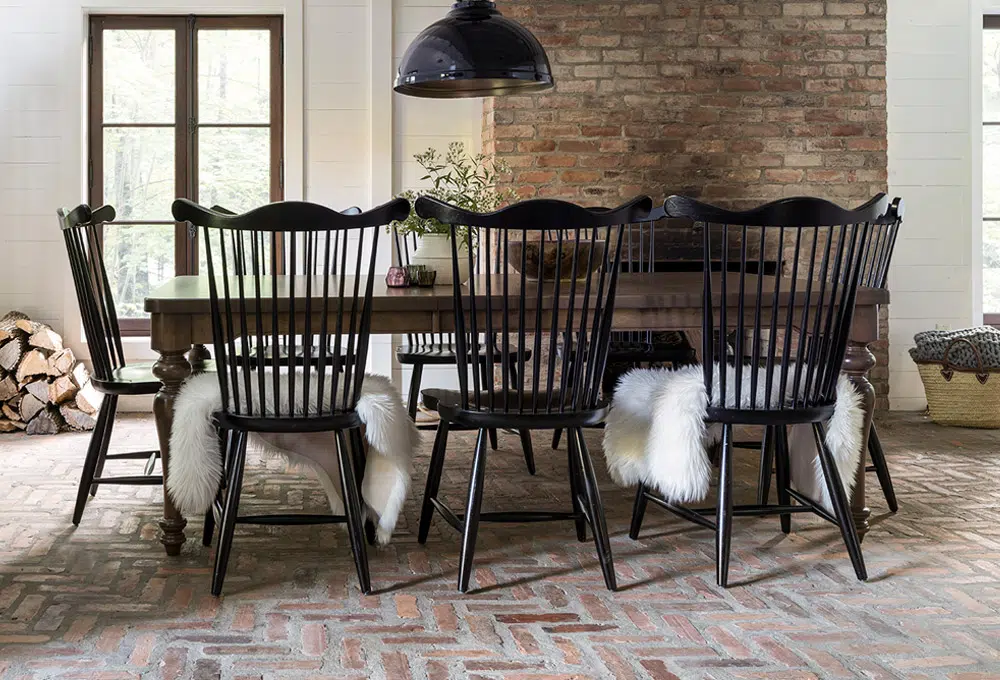 Finally, a bit of elegance in a casual dining room goes a long way. The Plymouth Expandable Dining Table Set pictured is a great option for families who need a larger table or space for extra guests over the holidays. The rustic brick floor and brick fireplace are evocative of early New England style homes, which were designed with comfort and warmth in mind. The fur rugs on the chairs invite diners to sit and stay awhile in this casual dining room design. Sophisticated yet comfortable defines this informal dining room.
Think about the ways you and your family use a dining area. If formal and stuffy is not working for you, consider transforming the space into a casual dining room where everyone is sure to want to hang out.