Blonde Wood is Back in the Dining Room
Trends in dining room furnishings tend to come and go but one perennial favorite is midcentury modern. The sleek designs and clean lines of this furniture are a perfect match in nearly any home, whether it uses contemporary or traditional décor. And one aspect frequently found in both midcentury modern and Scandinavian (which is very similar in style) dining room furniture is blonde wood. This year, blonde wood dining room sets and other furniture are making a big comeback. Here is what you need to know about using blonde wood material in your home.
What is Blonde Wood?

Blonde wood or white wood is, simply, various species of wood that are light in color. Most often, light-toned varieties such as ash, maple or birch are associated with blonde wood furniture. These blonde wood dining room sets and other furniture pieces look particularly dramatic against a dark-painted backdrop, but they work equally as well in a room filled with bright, white décor for a space that instantly uplifts your mood.
Decorating the Dining Room with Blonde Wood
One thing to keep in mind when adding blonde wood furniture to your dining room is that a little bit goes a long way. It may be tempting to purchase an entire suite of matching, light-toned pieces, but that would tend to overwhelm the room and appear dated. Today's trend of blonde wood home furnishings is best incorporated one piece at a time.
Blonde Wood Dining Room Showcase
Look at these lovely finds from our warehouse to get your fix of blonde wood in the dining room or kitchen.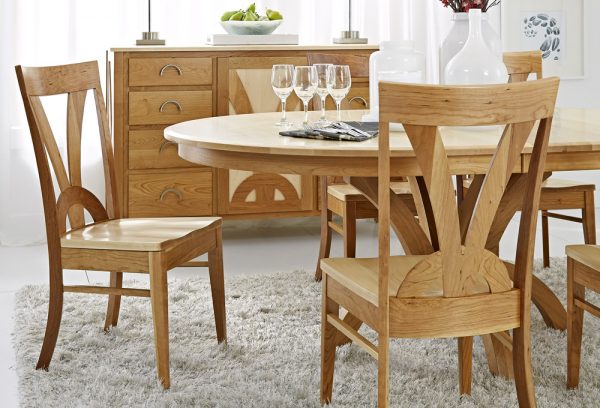 The Andromeda Single Pedestal Round Extension Table set is a perfect example of blonde wood done right. The finish of this dining set crafted from White Oak is a lovely, honey-drenched hue that brings warmth and light to any dining room. The solid hardwood chairs can be upholstered in your choice of fabric or leather options. A dark navy or deep gray would look exceptionally nice against the warm tones of the wood.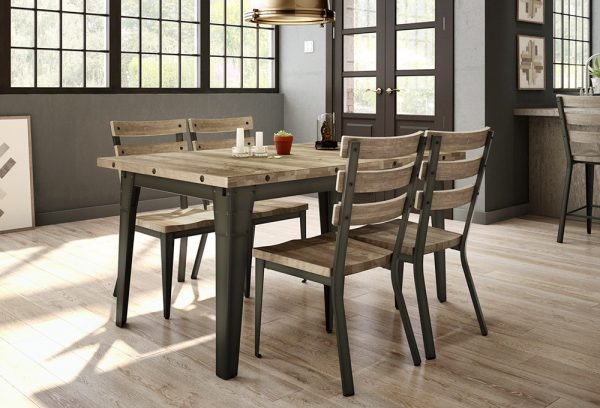 Another blonde wood option for your dining room is the Carter Expandable Table and chairs. This modern industrial-styled set is available in your choice of wood species. Either the Birch or Alder would be great choices for a blonde wood finish, such as the ash-toned set featured here. You can also choose the color of the metal frames. As seen here a cool, pewter metal frame is an excellent foil for the light-hued wood.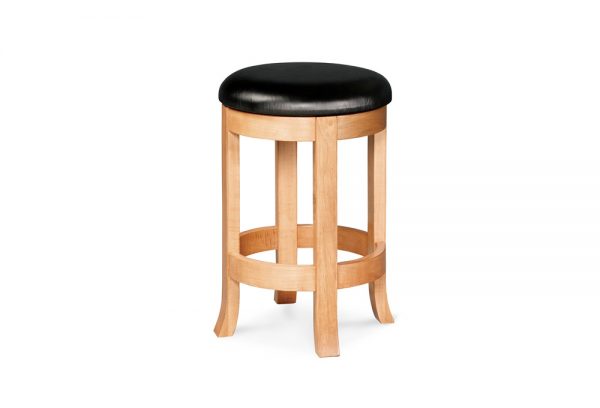 For an entertainment area, kitchen or home bar, a set of Winston Backless Swivel Barstools is sure to cure your craving for a blonde wood accent in your home. The one pictured here is made from solid White Oak finished in a honey golden color which is offset by the black leather upholstery on the seat. It's comfortable and traditionally styled with simple lines and a classic design.
In addition to these gorgeous blonde wood dining room sets and furniture pieces, wood species and finish color is also an option with nearly any of our dining tables, chairs, barstools and buffets.
Trending now: blonde wood furniture for your dining room. Why not take advantage of this classic and add a piece or two to your home today?