Best Dining Table Sets Based on Size
What is the best dining table for your home? For one thing, it absolutely must fit in the area you have devoted to eating and still leave plenty of room to move around the table and behind the chairs, when in use. But it also must fit the number of people in your family or the number of guests you routinely host. You will also need to consider the visual weight, shape, and material used in regard to the room itself. With that in mind, we offer you the best dining tables based on size. Take a look and find one that will look great in your space.
Best Dining Set for 2 – 4 People
We'd like to nominate the Miguel Round Wood Table Set as one of the best for a small family or single person. As shown here, it easily seats three, but you could add another chair to accommodate a fourth diner.
Why it's one of the best:
What we love about this dining set is its design. The slender table and chair legs are reminiscent of mid-century modern style. They allow lots of light to pass through, keeping the dining area bright and airy. The chairs tuck up neatly underneath the lip of the table, which makes this set ideal for a small room or in a nook of the kitchen. The Miguel 48" wood table and chairs are made from solid Maple wood using mortise and tenon construction for extreme durability.
Best Dining Set for 6 – 8 People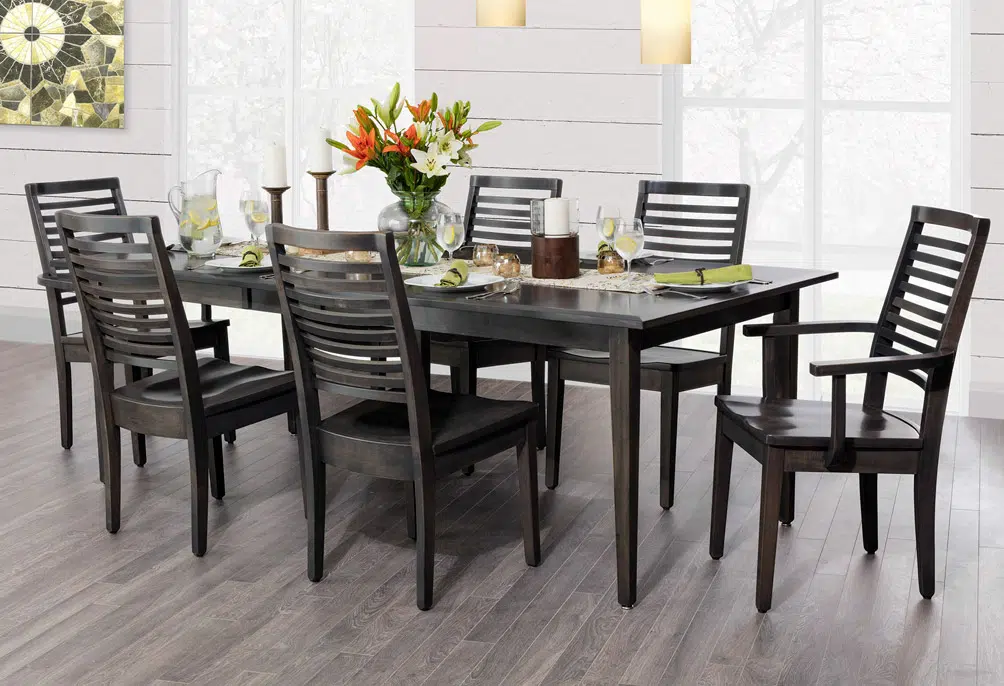 The best dining table sets based on size need to fill up the room when you are seating six to eight or even more people. You will need something substantial to accommodate that number of diners comfortably, with a table from 54 – 92 inches long. The Kaden Extension Wood Table Set pictured above fits the bill perfectly with its sturdy weight.
Why it's one of the best:
To start with, the Kaden Extension Wood Dining Set is finely handcrafted from solid hardwood by Amish craftsmen known for their high quality furnishings. The set is available with both armchairs and side chairs to optimize the seating. But one of the greatest features of this dining table is the ability to customize it as you wish. That includes choosing the tabletop shape, table edge shape, wood species, and stain color. Because it is an extension table, it will work just great during the holidays or other times when you have extra company over for dinner.
Best Dining Set for a Small Space
When space is at a premium, you need a dining set that takes up as little room as possible. For the best dining table sets based on size that fit a smaller dining room, we suggest the Arthur Pub Table, with its cool and contemporary good looks, round shape, and easy care metal and glass.
Why it's one of the best:
The Arthur Pub Table is another one of our customizable dining sets available in either counter height or bar height. Made from metal and glass, you get to choose the finish colors, or you could even opt for a wood table top. The upholstery color is your choice, as well. This little set is sure to tuck into a corner nicely and could even be placed on an outdoor patio.
When it comes to the best dining table sets based on size, these three get our highest recommendation. Which one would work best in your home?