Best Designs for Dining Room Tables Part II
In continuing our two—part series on best designs for dining room tables, we focus on both tried-and-true design as well as dining tables inspired by other cultures. If you have not had a chance to read the first part of this series, please visit our first article on best dining room table designs here, then continue on to find the perfect selection for your home.
Make Space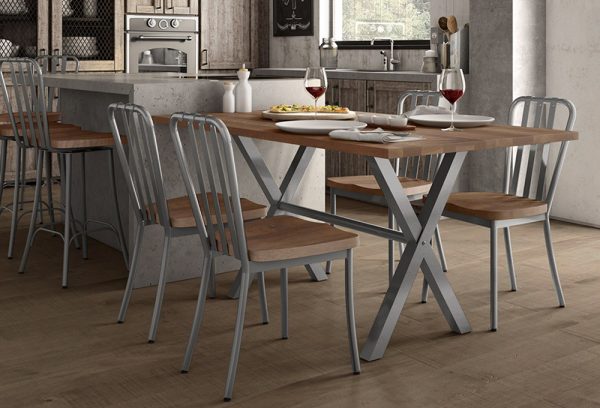 Short on space in your dining area? In this case, the best designs for dining room tables focus on furniture that hugs the wall – or other pieces in the room. Take this Aaron counter height dining set, for instance. As shown here it can abut a kitchen island outfitted with matching barstools. The chairs for this dining room table are available in your choice of metal finish color. The entire set looks sleek yet seats a sizable group – especially handy at the holidays.
Subtle and Delicate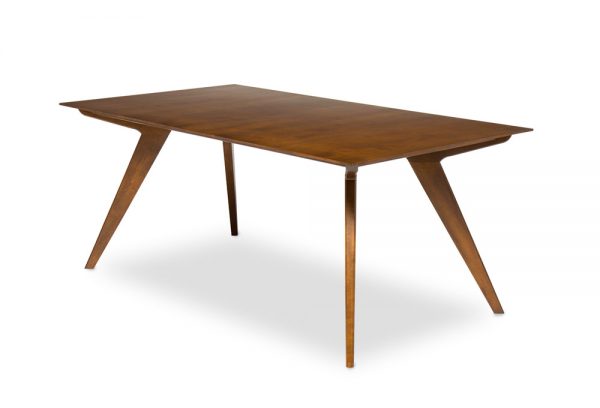 For a home with sophisticated décor, it is a good idea to continue that trend in the dining room. You will not want a dining room table with overwhelming details or a broad base. Instead, take a cue from Scandinavian furniture makers, who tend to incorporate slim, yet stylish legs combined with classic shapes, such as this Berg dining table. It's crafted from solid birch and comes in your choice of wood finish, or you can opt for a modern glass tabletop.
Light and Bright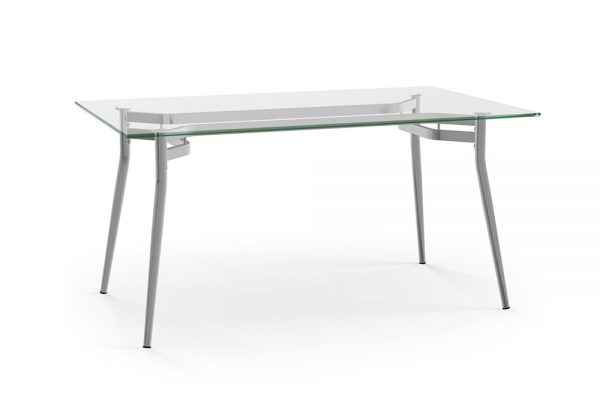 If you wish to incorporate more light in your dining room, then steer away from wood and opt for a glass-topped dining room table. The Jayden Glass Dining Table shown above further emphasizes that light, brightness you wish to achieve via the slender, metal legs. This modern design works not only in newer homes, but mid-century modern abodes, as well, due to its modern classic style.
Contemporary Country
The trend over the past several years to incorporate organic design in our homes shows no sign of slowing down. And some of the best designs for dining room tables incorporate a country, or rustic, vibe. The Asher Wood and Glass Table Set pictured here is a perfect example. This is contemporary country style at its finest as noted in the hefty, solid wood frame punctuated by large metal accents on the corners. Make this one your own by selecting your choice of upholstery material, birch wood stain finish and glass tabletop color.
Trendy Industrial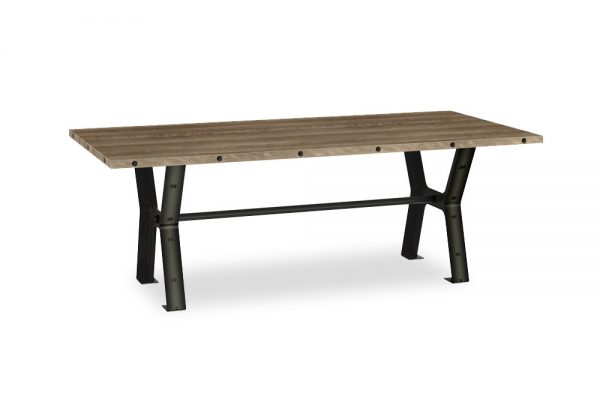 Another home décor trend not going away anytime soon is industrial interior design. This Samuel Extension Dining Table has all the little details that define this style, from the robust metal base to the rivets on the frame to the distressed wood finish of the tabletop. Bench seating and an extendable top make this one even more functional while adding a touch of whimsy perfect for any home with an open floor plan and touches of ironwork.
Retro Comfort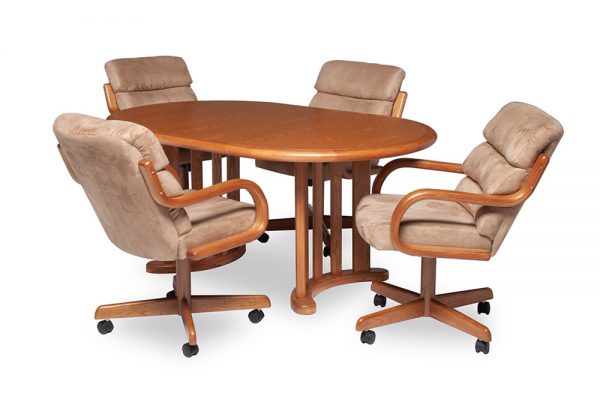 If you long for the décor of decades past, there is no need to sacrifice comfort for style. Some of the best designs for dining room tables take a page from the era prior to the 21st century. Here we have the Triple Round Extension Table shown with four matching chairs. The dining room table is crafted with a solid oak table edge and topped with durable laminate. The deeply cushioned chairs with rollers offer real comfort and a nod to style trends of the past.
We hope this two-part series will help you find the best designs for dining room tables to put in your home.