Your Guide to Shopping for Barstools
If you have been shopping for barstools, no doubt you realize there are many, many options. They come in varying heights, materials, with arms and without, with padded seats and more. If it seems overwhelming, let us help you with this guide to shopping for barstools that fit just right in your home space.
Advantages of Barstools Over Chairs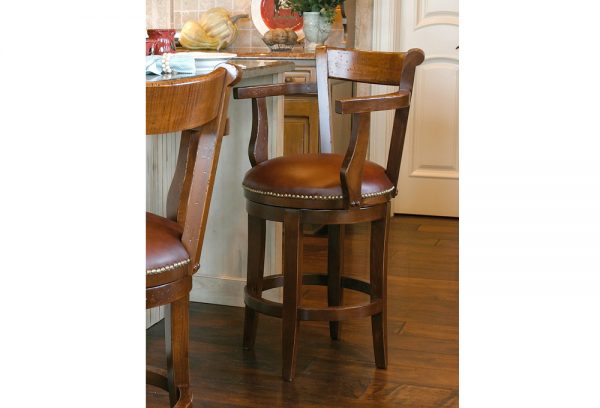 Why opt for barstools over dining chairs? For one thing, they make a design statement. Whereas chairs are tucked under tabletops, barstools stand tall, stand out and create visual interest in a room. Plus, barstools that cozy up to a kitchen island or countertop place guests on the same level as those entertaining or cooking in the kitchen, encouraging conversation and participation. And if your family members are on the tall side, barstools tend to be more comfortable. Then again, barstools can help the shorter members of your family gain a leg up.
Barstool Height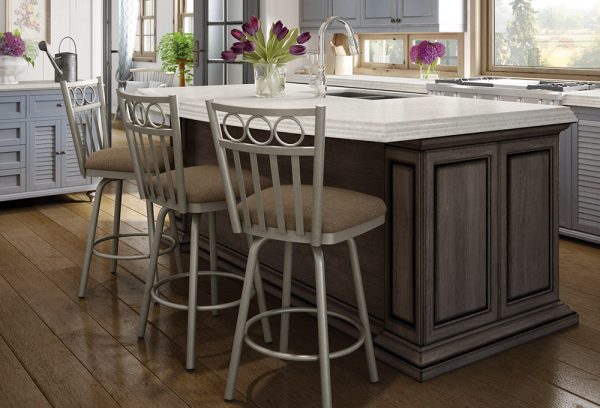 The first thing to determine is the proper height of the barstools. If you are placing barstools under the overhang of a counter, they should be about 24 inches high. For pub or bar height tables and islands, barstools that are 30 inches high will work better. Just be sure to measure before shopping for barstools as your kitchen may not conform to these standards. See our post about counter height and pub height tables for further information.
Another consideration is if you want to be able to tuck the stools underneath the overhang completely. This is a real space saver and preferable if you are working with limited square footage in your kitchen or dining room. It also allows for a clean line of sight in a room.
Back, Foot and Arm Rests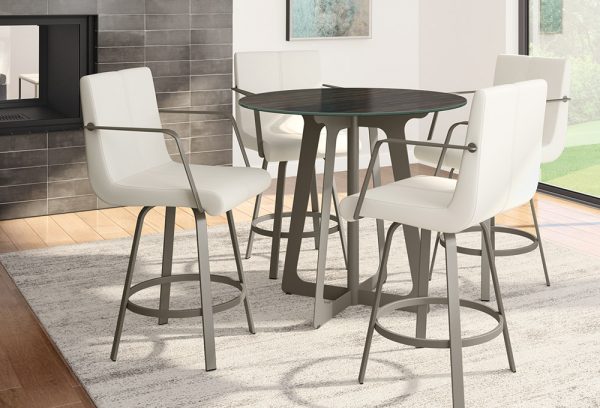 Barstools with back rests, foot rests and arm rests make for a more comfortable seat, allowing the seated person to sit back and relax with a place to support their limbs. They also provide greater stability. Backrests, footrests and armrests invite your family members or guests to kick back and stay awhile as they enjoy your hospitality.
The drawback to adding these comfort features is that they take up more space and cannot tuck under a countertop. They also prevent the sitter from being able to spin completely around – which might be a good thing if you have kids who enjoy constantly being in motion.
Upholstered Seats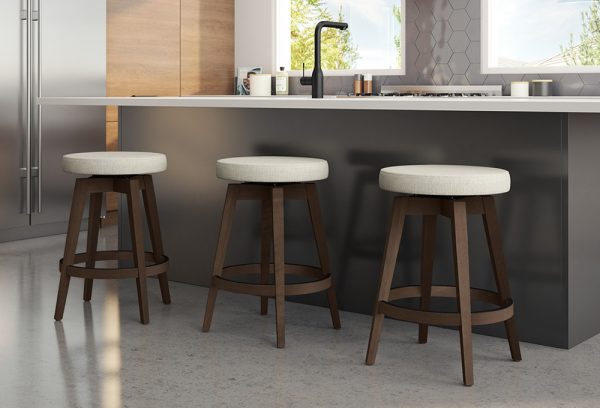 You may think that cushioned seats are always the best way to go when shopping for barstools. After all, an upholstered seat sure does feel good and looks more inviting. Plus, you can choose upholstery fabric that enhances the décor in your kitchen or dining room.
However, do consider that these stools will be harder to clean and the cushions will degrade over time. If you have young ones at home, barstools with ergonomic seats made from metal or wood may be a better choice.
This guide to shopping for barstools should help you be prepared to find the barstools that are a perfect fit in your home. We invite you to browse through our online selection of barstools and counter stools now and find one or several that catch your eye.