Why Choose a Round Dining Table?
When it comes to solid hardwood, high quality dining sets, you have several choices in regard to shape and size. Some of the more common configurations include oblong or rectangular, square, oval and round. In this article we look at some of the reasons why you might choose a round dining table as opposed to other shapes.
How Many People in Your Family?
One of the first considerations is how many people in your family regularly gather to dine. If you are a single person, it is just you and a spouse or perhaps you only have one child, a round dining table is a great choice. Usually, round tables are best for seating a group of four, however if you opt for an extendable version you can even accommodate an additional two or more for entertaining.
How Much Space Do You Have?
Another consideration when deciding why you might choose a round dining table is space. In a small area, a round dining table works best because it easily snugs into a corner while still allowing four people to dine. Choose a table that incorporates a drop leaf, and it gets even smaller, allowing the flat side to tuck against a wall when there are only one or two diners. This is a great option for a dine-in kitchen or breakfast nook and a round dining table can also double as a work desk.
What is the Shape of Your Room?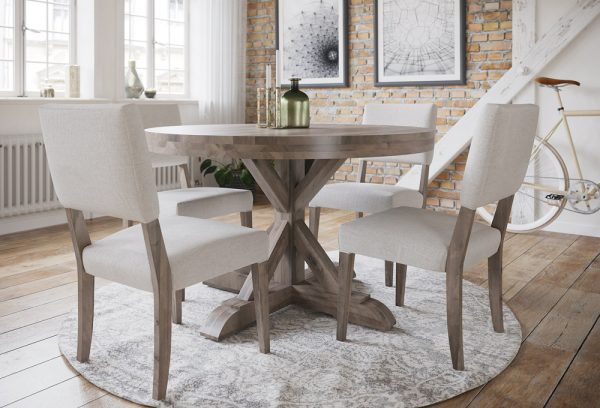 Something else to take into account: the shape of your room. If it is long and narrow, a round table would not fit the space. But open spaces, square rooms, or dining nooks, particularly with a bay window, are a perfect fit for a round dining table.
Other Considerations
When shopping for a round dining table, do ensure that it is solidly made. We prefer solid wood due to its durability, but even dining sets with glass tops and marble bases would work fine. The idea is to make sure that the table is sturdy enough not to rock, shake or tip with the slightest movement. The base is important; ensure that it is wide enough and large enough to provide a stable foundation for the top, particularly if the top is made from a weighty material.
Extension tables are always a bonus since they easily transform from a small dining space to a larger one when the occasion merits. With a single extension, your round dining table will seat 6; with an additional extension or two, you can easily seat up to 8 or 10 diners at once.
When your family outgrows a round dining table, it can be repurposed as an outdoor table on a front porch, as a game table for the kids or as a craft table for you.
Why choose a round dining table? Perhaps the better question is, why not? We invite you to look through our extensive selection of round dining tables online and find the one that perfectly fits your needs and your space.