What Style is Your Dining Room?
When it comes to your dining room style, there are plenty of different ways you can decorate it. The type of dining room décor you choose should be a reflection of your own sense of taste and include items that mean something to you and your family. You may need to experiment with different furnishings in order to find the right combination. In that regard, we provide some examples of dining tables that may help determine what style is your dining room.
Formal Dining Room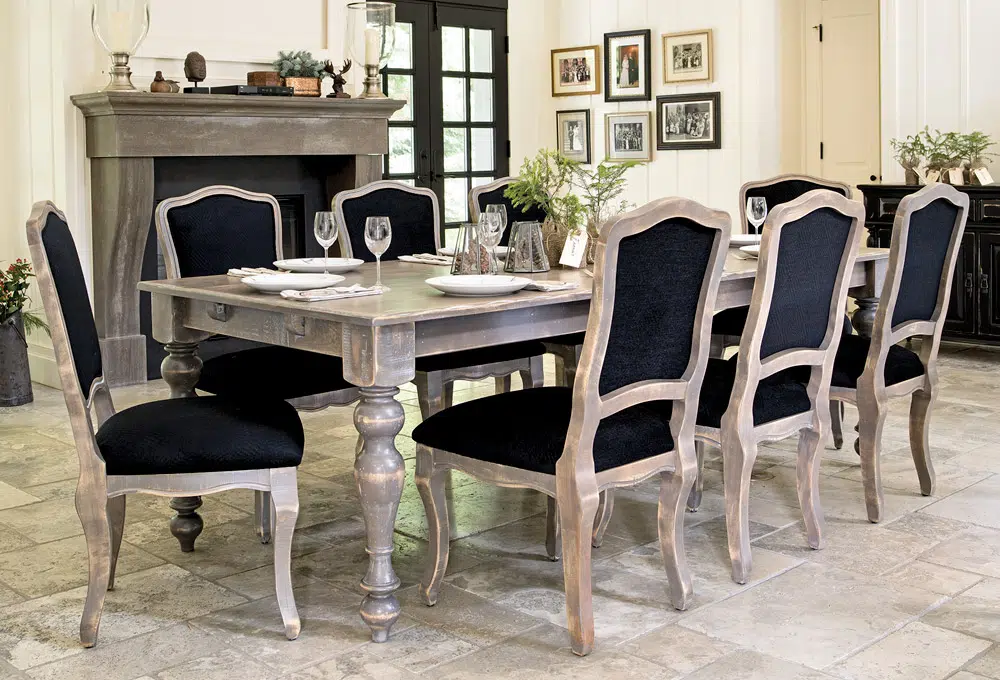 Formal dining rooms are what many of us grew up with in the homes of our childhood. Typically, this is a completely separate room from the living area and kitchen, a space that can be closed off so none of the diners have to see the mess made to produce great food. When you think of types of formal dining rooms, chances are you imagine them as sophisticated and elegant in style. Many times, this dining room style type is laid out in a rectangular shape, to accommodate a long dining table and chairs although there are plenty of round and oval formal dining sets. Often there is a buffet, hutch, bar cart, or sideboard included in a formal dining room.
If you answered formal to the question of what style is your dining room, then consider the Ellie Extension Dining Table Set shown above. Ellie combines Olde World European charm with modern technology that ensures it is always easy and convenient to extend the table when necessary. The Ellie dining set is fully customizable in terms of finish and glass color, table surface, table height, leg style, size and shape. You also get to choose from a variety of leather and fabric upholstery for the chairs.
Open Dining Room Layout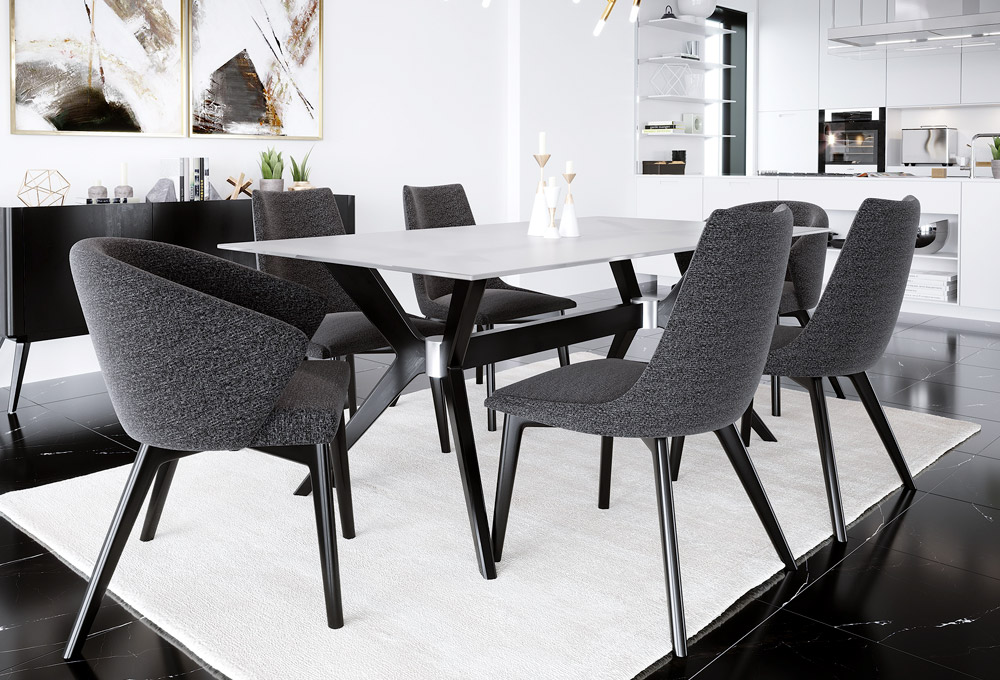 An open style dining room offers a more casual design. It has been very popular for the last several decades as it combines living and dining space along with the kitchen area in one big, open floor plan. This is an ideal configuration for families who enjoy spending time together and interacting while a meal is prepared. An open floor plan is airy and spacious. When answering the question what style is your dining room, an open layout is typically more casually decorated than its formal cousin.
For an open dining room, we suggest the Ethan Glass Dining Table Set. It trends toward contemporary style but could also be considered transitional, depending on the custom features you select. Customization includes finish color, tabletop material, table edge, type of base (pedestal or legs) and upholstery. The larger chairs are easily accommodated in a large, open space.
Kitchen Nook Dining
For smaller homes, sometimes the best or only option for dining is a corner of the kitchen, aka breakfast nook. Typically, this is a cozy, intimate space perfect for a morning cup of coffee or casual luncheon. Often, it is tucked into an area around bay windows to afford an excellent view of the outdoors. A kitchen nook for dining should be decorated with comfortable and casual furnishings.
What type of style is your dining room? If your answer is a breakfast nook, a round table usually fits the space best, such as the Arthur Pub Table shown above. This is a perfect pick for a modern home and the small footprint means this set can fit nearly anywhere. Made from metal with a glass top, you can customize the set with your choice of finish, glass, and upholstery color.
So, what type of style is your dining room? Depending on the space you have to work with and your own sense of design, there is bound to be a perfect fit from any one of the beautiful dining table designs we carry at Casual Dining & Bar Stools.