What Shape is Your Dining Table? Key Measurements to Keep in Mind
When furnishing your dining room, one of the most important things to keep in mind is the shape of the table. It should be appropriate for the space and fill it maximally in order to make the best use of the square footage available. So, what shape is your dining table? Whether it is rectangular, round, oval or square, these are the key measurements to keep in mind.
What Shape Should Your Dining Table Be?
First, take a good look at the area you are furnishing. If it is a round room or curved space, a square or rectangular dining table will look out of place. Of course, you can easily opt for a round or rectangular dining table in any standard room, but pay attention to how it fills the space. A tiny dining set with four chairs will look out of place in a massive dining room. If it is long and narrow, the dining table should reflect those dimensions, too.
Rectangular Dining Table
If you answered the question "What shape is your dining table?" by saying rectangular, then you are among the vast majority of homeowners. This is the most popular shape by far and most dining tables that are rectangular can be extended with leaves for those times when you have additional guests for dinner.
Many rectangular dining tables are between 36 – 42" wide with varying lengths. A formal dining set is usually a minimum of 66" in length but that can be increased up to 120" with extensions. If your dining room is particularly large, you can order a custom dining table that will fit the space just right.
Square Dining Tables
Square dining tables are always going to be smaller in size than their rectangular cousins simply due to the shape. Most often they measure 36", 42" or 48" on each side, although you may be able to order one up to 72".
Square dining tables require a lot of space so this is a good option when you have a very large, square dining room or open dining area. Most often, square tables are counter or chat height and come with stools instead of chairs. To seat the maximum number of people, be sure there is room on each side of the table for at least two chairs or stools.
Oval Dining Table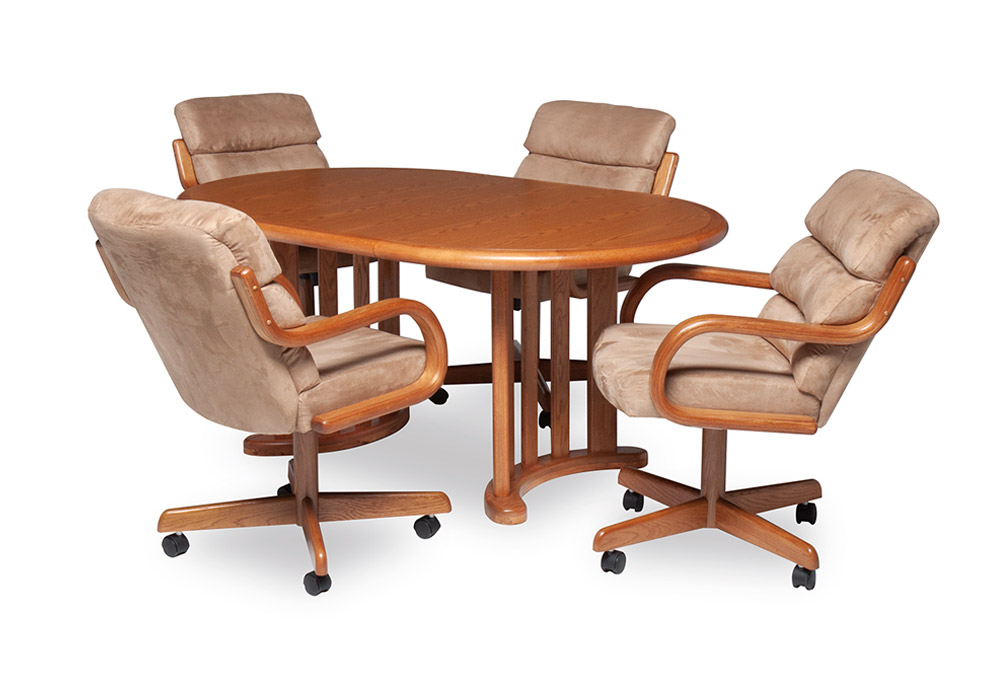 What shape is your dining table? If you said oval, then you have the second most common table shape in the country. Oval dining tables are closely related to rectangular tables but can seat more diners when needed since there are no corners. This is a perfect choice for smaller dining areas.
In terms of size, oval dining tables are generally 36 – 48" wide with lengths comparable to rectangular tables – anywhere up to 120 inches long. Be sure to measure to determine if the number of chairs you wish to sit around the table will fit.
Round Dining Tables
Finally, a less common answer to the question of what shape is your dining table is round. Usually, round dining tables are a bit smaller than oval or rectangular models and often they are the best choice for eat-in kitchens or tucked into a breakfast nook. The advantage of a round table is that the shape lends itself more easily to conversation.
In terms of measurements, round tables can be very small, such as a bistro set of 24" wide but they can also go all the way up to 60" or even 72" for a formal dining room. Once again, it depends on the space you are working with as large, round dining tables are difficult to accommodate in the average dining room.
What shape is your dining table? These considerations and key measurements will help you design a lovely dining room.