Tips for Styling a Mid Century Modern Dining Room
There are many styles of décor available for today's home but one that we find perennially popular is mid century modern. Known for its clean lines and futuristic look, this style can be found in architectural elements of homes across the country. And most homeowners like to take those design elements from the exterior and use it within to create a cohesive look. If you are a fan of this design trend or just want to incorporate elegant style, use these tips for styling a mid century modern dining room your family will love to use every day.
What Defines Mid Century Modern Style?
Mid century modern style came to dominance in the 1950s, following World War II. This was the era of new beginnings and the very start to space exploration. That is why many of the themes in mid century modern design use futuristic elements, such as atomic shapes (thinks orbs and spheres), lots of chrome, metal and glass, bright colors, angular lines, geometric shapes, and furnishings crafted from oak or teak wood. Overall, there was an emphasis on functionality over frills, bold hues over pastels, geometric lines over curlicues and furbelows.
Some of the most iconic pieces of furniture from the 1950's through 1960's are Eames molded chairs, Eero Saarinen's tulip armchairs, and classic wood buffets.
Why Choose Mid Century Modern Dining Room Style?
There is a reason that mid century modern style has stood the test of time: it's an easy way to choose décor for your home that is instantly recognizable and blends comfort with contemporary lines for an approachable sense of style. Those characteristics make it eminently suitable for dining rooms where guests and family members gather to enjoy good food and fellowship.
The good news is that your home needn't have originated in the 1950s for mid century modern style to look right at home in your dining room. In fact, it can be successfully mixed with other popular styles such as minimalist, Scandinavian, or even rustic/industrial.
There is also no need to make an investment in original pieces from famed designers. Today, there are many contemporary furniture makers who use the same style elements as mid century modern in readily available pieces with the same fine quality and minimalist design.
Tips for Your Mid Century Modern Dining Room
It is best to opt for a traditional dining room layout when designing your mid century modern dining room. A table and chairs in the middle of the room and a buffet along one wall is a layout that will serve any home well.
Let the furniture be the star of the room. Dining tables do not need to be restricted to rectangular or round shapes; make a statement by opting for something nontraditional, such as an organic shape or live edge tabletop.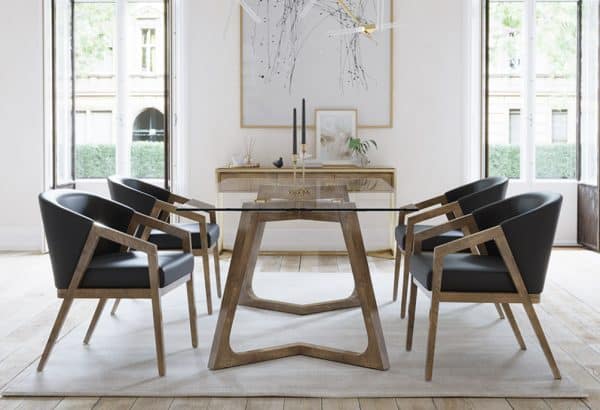 Be sure the dining chairs you choose echo the classic lines of those iconic mid century modern seating pieces. Leather upholstery, slim wooden arms and legs, sloping angles and curved forms are all great choices. The curved lines of the Aara chairs shown above echo the Cherner chair that was popular in the late 1950's.
Be bold in choice of color, too, as this really pulls together the mid century modern dining room style. Red, orange, yellow, turquoise, moss green – all of these would look right at home in a dining room with Mad Men vibes.
When you are ready to start styling a mid century modern dining room, be sure to have fun browsing through the pieces that will make your home a standout.