One Piece of Furniture You Keep Forever
When it comes to buying furniture there are a few pieces that are considered an investment, and very often a one-time purchase. Such furniture you keep forever includes sofas, beds and dining tables. In this article we consider those features essential to a well-made dining table as well as styles that are sure to stand the test of time.
Furniture You Keep Forever is Sturdy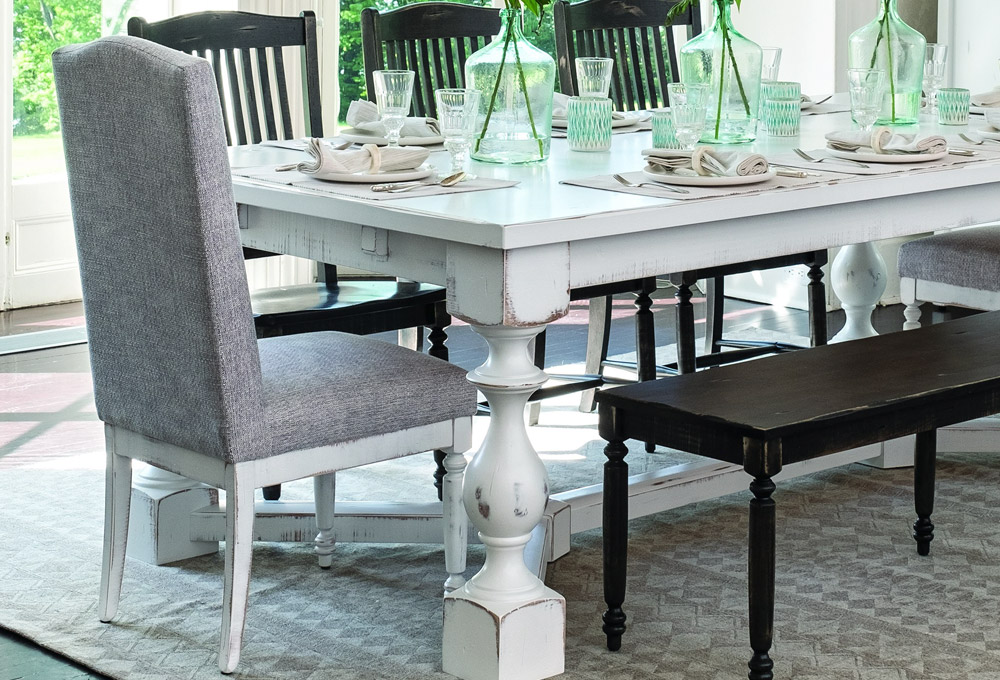 When you make an investment in a large furnishing, it needs to be sturdy and well-made. While we suggest solid hardwood, such as oak, maple or teak, there are plenty of dining tables made from metal and glass that are just as durable. The Leah Dining Table pictured above is crafted from solid birch sourced in North America. It has many customizable features, such as table surface, edge and number of leaves, along with lots of variables in eight, shape and size, among others.
No matter what material you choose, be sure to examine the details, such as the joints, tabletop thickness and upholstery. Be wary of any areas that are made from composite or engineered materials as they are less likely to age gracefully. Remember that, especially if you keep your table covered with a cloth, it is sure to last for many years and can even be repurposed somewhere down the line as a desk or crafting table.
Furniture You Keep Forever is the Right Size
Another consideration for a dining table is its size. Most of us do not have large crowds to feed every day but we do like to have enough room at the table to accommodate holiday guests. And while a large, bulky dining table may fit perfectly into your current dining room, if you downsize sometime in the future, that same table might be too large. The best solution is to go with an extendable table. A moderate size works best in most cases with the ability to add one or two leaves, as necessary.
Take this Isabella Glass Extension Dining Table, for instance. Although you may not realize it, glass-topped tables are available with extra leaves to extend the length. While the legs are made from solid birch wood, the top is crafted from tempered glass which is available in a wide array of colors and resistant to scratching. There are plenty of other ways to customize this beautiful dining table, as well, including finish color, number of leaves and upholstery fabric on the matching chairs.
Furniture You Keep Forever is the Right Shape
Shape is another consideration when shopping for a dining table you are sure to keep for a lifetime. While rectangular is traditional, round is a shape that will work in a variety of different rooms. Round is a good choice for smaller spaces and if you opt for one with leaves, the table becomes very versatile.
The Andromeda Single Pedestal Round Extension Table pictured here is an excellent example of a dining table with classic good looks that is sure to be part of your household's furnishings for many, many decades. The pedestal base is made with an interesting form that gives this table extra appeal. It is available in your choice of cherry, maple, white oak, hickory or walnut solid hardwoods. Customize it even further by selecting the perfect stain finish and upholstery for the matching chairs.
A dining table you will keep forever should be sturdily built and come in a size and shape that will accommodate your changing needs in the future.