Minimalist Dining Room Design
Are you a fan of minimalist design? While some consider living with minimal furnishings and décor to be cold and impersonal, this design trend needn't take away from your home's comfort and appeal. Here we examine the principles behind minimalism and offer tips and ideas for designing your dining room and its furniture set with this modern trend in mind.
What is Minimalist Design?
Minimalism has roots in the Bauhaus movement of Germany, but it also incorporates the simple lines and functionality of Scandinavian design along with the spare rooms traditionally seen in Japanese homes. Providing a clean and modern look, minimalism is thought by many to provide a more relaxing atmosphere due to a lack of clutter and unnecessary items that are purely ornamental. Minimalist dining room design and furniture sets often uses just a handful of colors, or varying shades of a single hue.
With minimalist dining room set design, everything has a purpose and a place. But incorporating these principles in your own home is a bit harder than you might expect. Every item should be placed with deliberate care to reflect your personality and add functional design to each room.
Smart Organization and Storage
Smart storage options that help organize belongings are an essential part of every minimalist home. Tucking useful and treasured items behind closed doors ensures they stay dust-free and out of sight.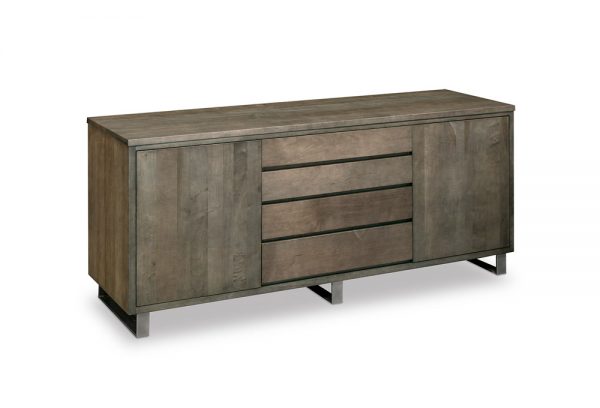 For minimalist dining room furniture set design, a sideboard such as the Brennen Buffet shown here is a smart idea. Designed with broad surface areas that are easy to keep clean, this handmade, solid hardwood buffet holds a lot of dishes, serving ware and linens while keeping them handy for use.
Multifunctional Pieces
In a minimalist dining room, furniture sets with more than one purpose are ideal in order to keep the number of pieces in the room to a minimum.
One very popular piece for a minimalist dining room furniture set is a dining bench. It can be serve as both seat and table. We particularly like the Scandinavian style of the Veti bench shown here, with its simple, fluid lines. The wooden legs provide a touch of organic style, which melds well with minimalist design. The finish color is customizable, as is the upholstery fabric or leather.
Neutral Color Scheme
You are unlikely to find a lot of bold, bright hues in a wide variety of shades inside a minimally decorated home. This keeps the atmosphere in a room soothing and uncomplicated.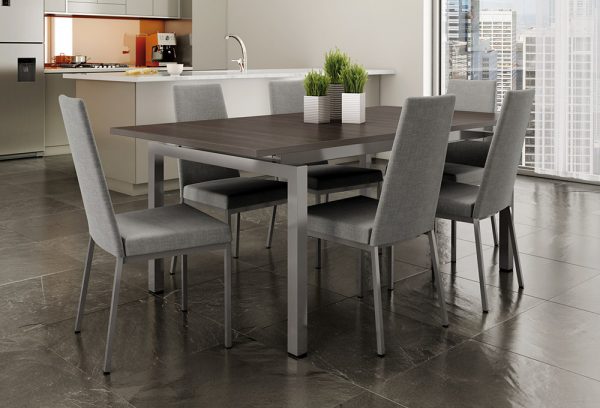 For minimalist dining room furniture set design, contemporary style ideas such as the Aiden Extension Table Set pictured above work very well. The gray upholstery fabric and titanium finished metal frames blend beautifully with a cool-toned solid wood top. The kitchen and dining area flows nicely, anchored by the white walls and counter tops and the neutral taupe of the floor.
If you are not into dusting and having a home filled with clutter, then minimalist dining room furniture design ideas might be the perfect decorating style for you. Remember that everything should have a place and a purpose and keep the color scheme neutral for best results.