Island Dining Ideas for Your Kitchen
No doubt you know that kitchen islands are very popular and found in most modern homes. But did you realize that some homeowners are actually going with the idea of ditching their dining table and opting, instead, for eat-in kitchen island dining and seating designs only? This may not work for every family and every home, but if you have considered making the move from dining room to island seating, then you will be interested in reading these tips and suggestions for making this arrangement a viable alternative.
Why Choose Island Dining?
In most residences, where is the most popular spot to congregate? The answer is usually the kitchen – the social hub of the home. And if your kitchen has a large, central island, that is where friends and family tend to gravitate. After all, this arrangement makes it easy for the person preparing food to feel as if they are in the center of the action and allows everyone to chat with each other across the kitchen island.
Opting for a generously sized eat-in kitchen island design idea for dining adds more storage and prep space in your kitchen. Islands can contain deep drawers, a built-in microwave, open shelving and much more – if you can imagine it, chances are you can find a kitchen island that will accommodate your needs.
What Type of Island Do You Need?
The first thing to consider is what type of eat-in kitchen island design you already have or an idea of what you need to install. There are so many kitchen island dining set design options these days – everything from purchasing an antique cabinet to extending an existing kitchen counter to adding a separate piece of furniture, such as the Miller Island Extension Table shown above.
Obviously, if you are going to transform your kitchen island into an eat-in dining area, the set design will need to have enough floor space for the required number of stools and enough countertop space to place hot dishes, serve ware, plates, glasses, and utensils. You may want to read this article about the space required for perfect counter seating to ensure there is ample space between stools.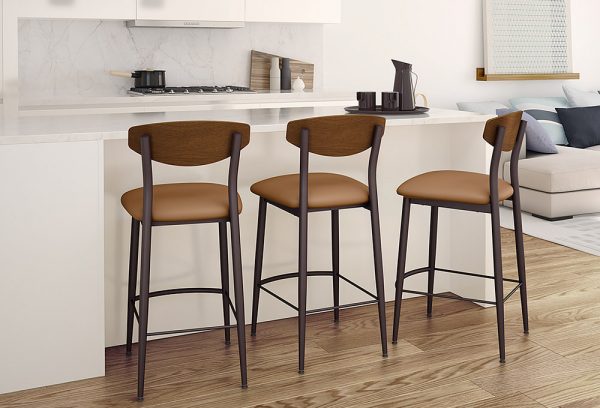 A bilevel counter may work best for your needs. This way the island can still be home to a sink or stovetop that isn't directly in view of diners, who would use the lower level of the counter for eating. You could also consider an L-shaped or curved eat-in kitchen island design idea in order to accommodate additional diners.
Another consideration is the height for kitchen island dining sets. Stools are available in counter height as well as pub or bar height. For most kitchen island dining, you will be looking for counter height stools, which are typically about 24" high. This allows them to slide under the lip of the island top when not in use unless you prefer barstools with arms.
Dress It Up
Finally, island dining set designs in the kitchen can be exciting and attention-getting. Experiment with different accessories on the island countertop to determine what looks best when the island is not in use. You may want to consider the idea of painting the eat-in kitchen island a contrasting color or adding embellishments such as unusual drawer pulls, wallpaper, or mirrored tiles. Don't be afraid to add a bit of whimsy or make a statement with the design of the island – let your personality shine through.
Kitchen island dining sets are a growing trend among homeowners. Is this design idea something you could use in your own home?