How to Make Your Dining Room Look Luxurious
What is the difference between a dining room that is purely utilitarian and one that makes you want to stay and enjoy a good meal? It's all in the details. The style of your dining area can influence the tone and the ambience of any breakfast, lunch, or dinner merely by presenting a backdrop that is meant to evoke pleasant, relaxed feelings and encourage diners to savor each and every bite. If your home dining room could use a bit of a modern luxury design lift, review these ideas for how to make your dining room look luxurious – and be a place where you are proud to entertain guests.
Show Off Serving Pieces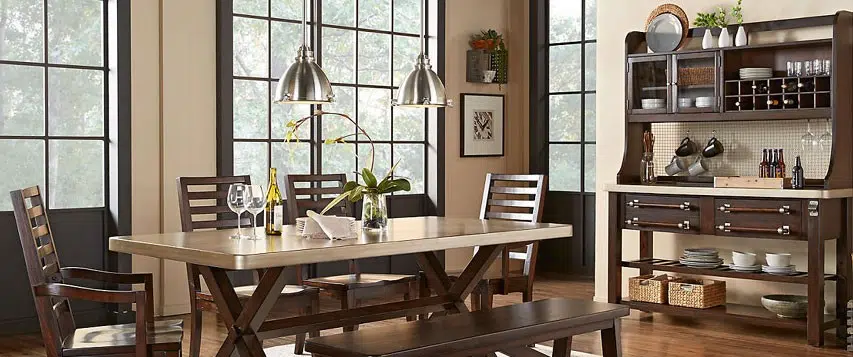 If you have a collection of fabulous dinnerware, wineglasses, bowls, plates, or cups don't keep them hidden away where they can't be enjoyed. A luxurious dining room China cabinet or hutch such as the one pictured above gives them all a place where they are readily visible and easily accessible. This design idea is casual yet lovely and works really well in a home with industrial chic or modern rustic décor.
Add the Perfect Rug
A rug that resides in the dining room must be exactly the right shape and size to avoid it looking like an island upon which the furniture sits. Pictured here is the Remi wood extension table and matching chairs with a perfectly proportioned rug anchoring the space. The colors are a soft accompaniment to the gray walls and blue-toned upholstery on the chairs. The right rug is a great way to make your dining room luxurious with little effort.
A Statement Piece
The dining room shown above is definitely one that exudes luxury and modern style. The chandelier is a statement piece in the room but the console with fire feature located along the wall behind the dining table and chairs really sets the tone with its mesmerizing flames. Contemporary yet warm, this is a dining room where you and your family or guests are sure to enjoy any meal served.
An Unexpected Touch
Another way to make your dining room look luxurious is by adding something unexpected yet sumptuous. Here, the addition of fluffy fur blankets on the wooden dining chairs is an unexpected touch that makes a world of difference. The setting is colonial and rustic, yet the high quality dining set and contemporary light fixture bring the aesthetics up a notch. With a fire blazing in the brick hearth and a blanket draped over your legs, there is reason to linger and savor any dish on the table.
Set the Table Like a High-End Restaurant
If you wish to feel as is you are dining in an upscale restaurant, don't wait for a special occasion to set the table with fine China, floral centerpieces and candles. Even the buffet is staged to make your dining room look luxurious with its thoughtful display of books and artistic objects. The lovely place settings shown here can make any diner feel as if they are in a luxury resort. Catered food and attentive servers are optional.
It does not take a lot of time, money or effort to make your dining room look luxurious. Start with the highest quality dining furniture you can afford and then tend to the details to create a space where you are proud to entertain every day.