Contemporary Bars for Your Home
With entertainment season in full swing and lots of family-centered holidays coming up, now is the perfect time to ensure your home has everything it needs for you to host a fabulous party. Outside of a spacious dining table set and plenty of chairs, you may want to consider adding a home bar. Here is everything you need to know about contemporary bars for your home.
Do You Need a Home Bar?
While it may not be seen as an essential piece of furniture in the home, having a home bar can offer many advantages.
For one, a home bar provides a convenient place not only to store alcoholic beverages and supplies, but to make cocktails. With everything in one place, it will be easy to please family and friends by keeping their favorite drinks coming.
Contemporary bars for your home also provide ultimate control over your cocktails. There are plenty of new and unique drink kits available, everything from whiskey smokers to herb-infused blends simply stirred into your favorite liquor. Make sure your bar is well stocked and experiment with fresh ingredients.
During the holidays, a bar often represents a great place for guests to hang out and mingle. Supply plenty of bar stools so guests can make themselves at home and watch the bartender do his or her magic.
What's Your Style?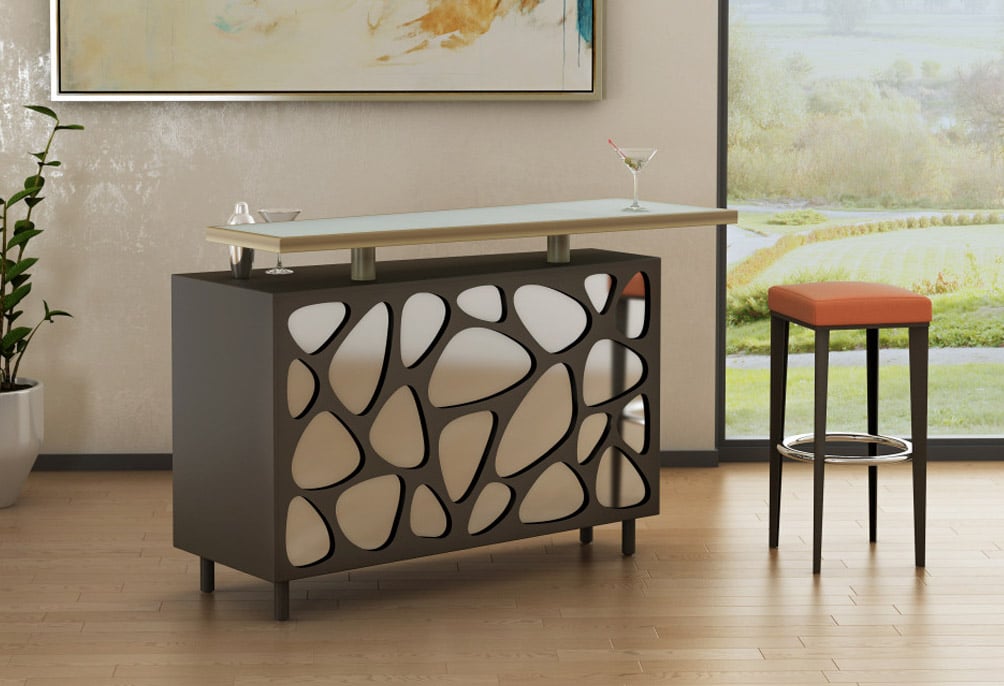 Consider the style of a home bar that would look great in your surroundings. For an always popular "Mad Men" midcentury modern vibe, start with one of our newest contemporary bars for your home. Then outfit it with stainless steel accessories, lots of campy swizzle sticks and a variety of glassware in different shapes and sizes. This type of iconic furnishing would be a welcome addition to any home, no matter the style of décor.
Contemporary Home Bars
Casual Dining & Barstools is pleased to offer two contemporary bars for your home that incorporate beautiful design and unique details.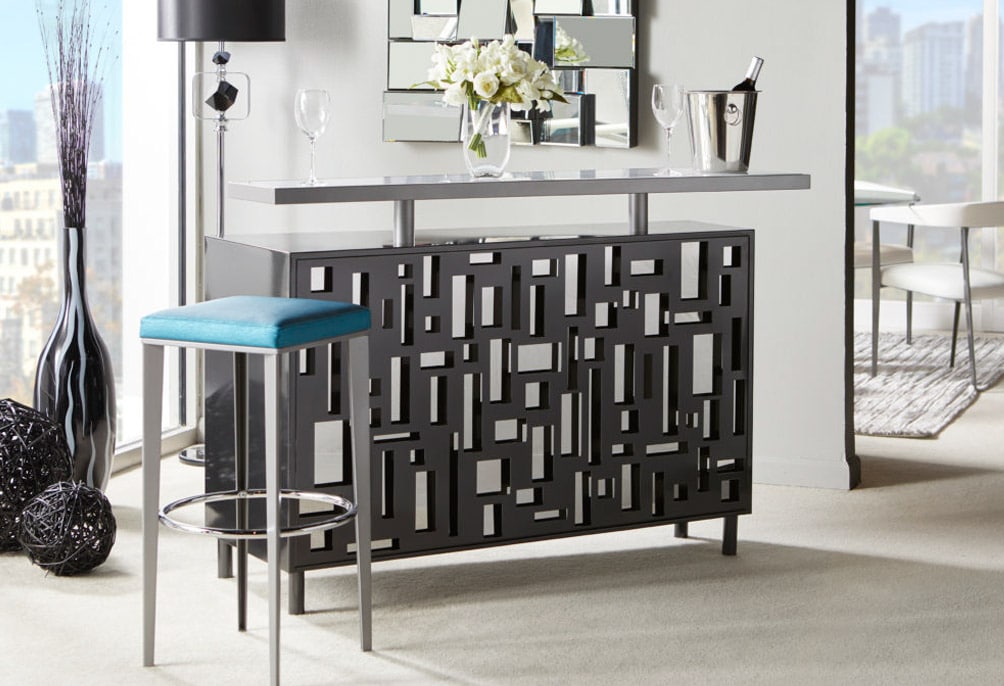 First up is the Callan Metal and Glass Bar. This American made home bar is perfectly sized and available with your choice of three laser-cut screens in stone, array, or hex patterns which overlay a mirror panel. There is plenty of sparkle from reflected light and the glossy white glass on the trapezoidal-shaped bar top adds an ethereal feel. Inside the bar are a pair of handy glass shelves and bottle storage.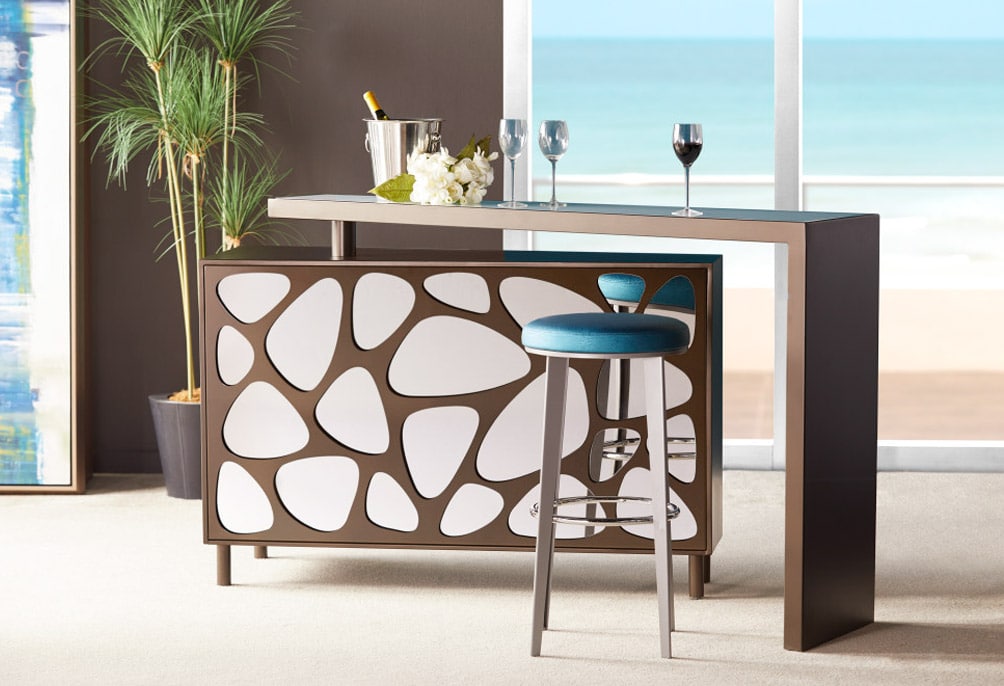 Next up is the Atlas Metal and Glass Pivoting Bar. Its cool design is enhanced by the ability to pivot the bar portion out from the frame. It starts with the same type of construction as the Callan, with a mirror panel and your choice of laser-cut screen. But the Atlas bar turns an old design on its head by allowing the bar to swing open and thus nearly double the size. This also allows for additional barstool seating on either side of the glass pivoting top.
Both of these contemporary bars for your home allow you to customize them by choosing the wood and metal finish color. The glass color is another option – ether clear or ceramic. And, as previously mentioned, you get to choose the front screen pattern with stone, hex or array shapes.
With contemporary bars for your home such as these, doesn't it make sense to have one in place before the holidays arrive?