Best Dining Tables for Small Spaces
Not everyone is blessed with a large, dedicated room for dining and entertaining. You may only have an eating nook located in a section of the kitchen or a little area with just enough space for a small dining table and four chairs. But that does not mean you need to sacrifice style or functionality. Creative features are found in many of these best dining table sets for small spaces and they can even help your home feel larger.
A Large Piece in a Small Room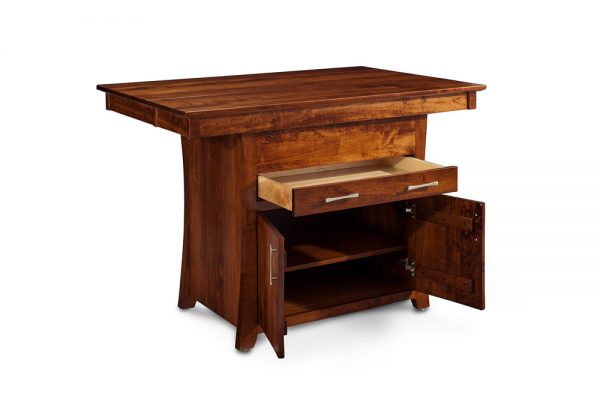 When it comes to adding a small dining table set to your eat-in kitchen or space-deprived dining room, consider how to keep it looking open and not overly cluttered. To do so, you will need to shop for tables with reduced proportions. The tabletop should be narrow or shaped such that it neatly tucks away in a corner or against the wall when not in use. If you occasionally need to accommodate additional diners, opt for a drop-leaf table or one with an extendable surface. There are plenty of brilliant designs that accomplish this handsomely, such as this Miller Island Extension Table with its handy, 18" butterfly leaf.
Aaron Farmhouse Style Dining Table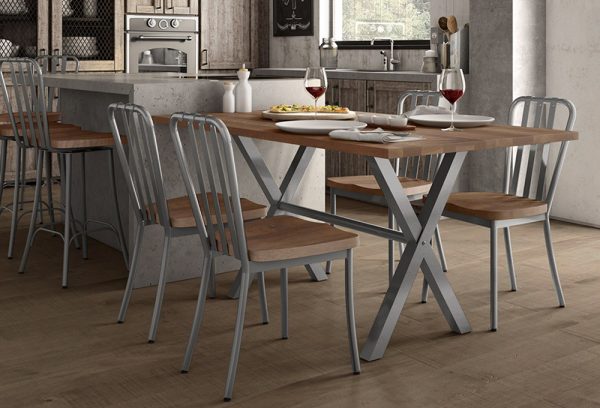 Here is a great overall small-space dining table option for an eat-in kitchen. The Aaron dining table can slip right into the space in front of your kitchen island and appear as a natural extension. Its casual style uses the classic x-frame legs that allow a set of matching chairs to slide underneath. The Aaron dining set is also customizable, available with your choice of metal finish color, wood finish color and upholstery material.The dimensions of the table are 21 3/8" x 35 ½" and a height of 28 ½" so this kitchen or dining table set will fit nicely in a small space.
Andromeda Round Glass Table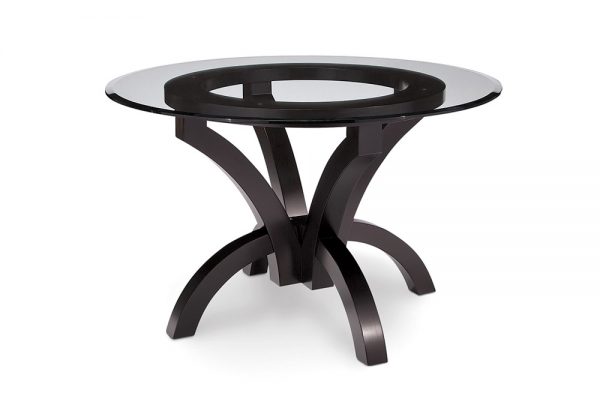 Here is another good model in best dining table sets for small spaces: the Andromeda Single Pedestal Round Glass Table. This one has several advantages that work well in a tight dining area. For one, the single pedestal base takes up less square footage that a square or oblong dining table. And that shape often fits well in corners or in use with banquettes. Lastly, the glass top helps create a visual flow through the room allowing reflected light to keep the room airy.
Milo Live Edge Wood Table with Bench Seating
This Milo wood table is a beauty. And when it comes to best dining table sets for small spaces, bench seating is ideal since it allows you to tuck the seat beneath the tabletop's overhang and gobble up precious square footage when not in use. The Milo Live Edge table is another model that can be customized; its size is just one of the features you can order to ideally fit your space, in addition to the finish color, tabletop material and color, and upholstery fabric.
Pub or Counter Height Tables
If your family is comprised of only 2 – 4 people, a great option for a tight dining room is a pub or counter height table. There are plenty of dining and kitchen table options for small spaces, but we particularly like this Theo Counter or Pub Height Table as one of the best dining tables for small spaces due to the matching stools that tuck neatly beneath the table when not being used. That frees up a lot of square footage and it looks stylish as well.
For homes without a lot of room for eating, these best kitchen and dining tables for small spaces fit the bill.