Best Colors for Dining Areas
When you are designing a dining room, there are many things to take into consideration, such as the square footage, the size of furnishings, the light fixture and whether or not to anchor your dining table and chair set with a rug. But what about the color in this space? Best colors for dining areas are based on how you want people to feel there. Read on for more advice regarding dining room color choices.
Why Color is So Important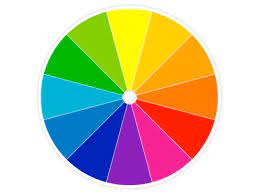 There is an abundance of studies on how color affects the way we feel and even think. Some hues, such as browns and greens, are associated with warmth and comfort. Cool colors like blue and gray can be soothing. Red and orange tones add energy and excitement to a room.
But everyone views color differently depending on their own personal reaction to the visual stimuli represented. Those frequencies can actually interact with our energies and change mood and perception. Then again, varying shades or tones of a particular color can cause varying reactions.
Start With Your Own Personal Preferences
Many homeowners have a difficult time deciding on appropriate hues for their home. If you are not sure about the colors you want to live with every day in your dining room, take a cue from some of your favorite things. If you wear a lot of yellow, for instance, you might be doing so because it is a bright and sunny color that positively affects your mood. Best colors for dining areas can be the same as those you prefer in floral arrangements, artwork, jewelry or accessories.
Take your personality into account, as well. If you are a playful type of person, incorporate playful colors such as pink and yellow. More reserved folks might lean more toward classic colors such as navy blue, gold and maroon. Is your dining space meant to be a fun place for the whole family to hang out or will it be used for formal entertaining and get-togethers?
Happy and Energizing Colors
A family space where everyone gathers around the dining table calls for colors that reflect that mood. Bright and warm hues are best colors for dining areas that are used daily. Orange, red and yellow are all good choices. For a contrasting tone, look to the color wheel and select opposites – or near opposites. Orange and green are unexpected but playful and vibrant.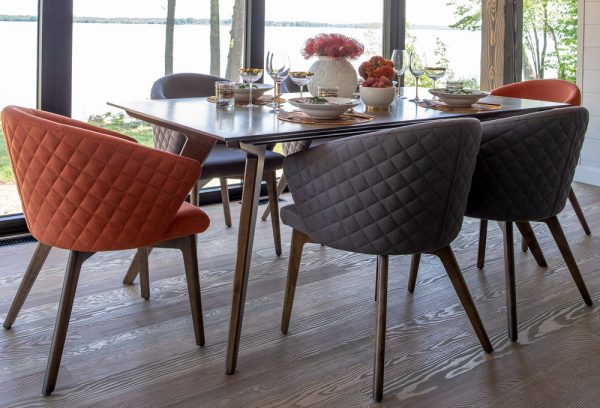 Pictured above is the Noah Wood Dining Table Set with fabric upholstered chairs in tones of Chinese red and blueish gray. Because orange and blue are opposite color wheel choices, these tones work very well together. The warm orange red is just enough of an accent to not overtake the room.
Warm and Inviting Colors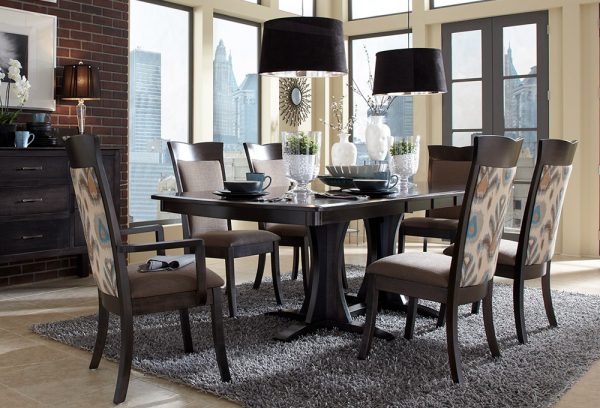 If you want to tone things down a bit, best colors for dining areas are warm neutrals, such as greige, tan or brown. Temper those neutral tones with added pops of color, such as the beautifully upholstered chairs pictured in this Miller Double Pedestal Extension Table Set. Mauve, mustard and olive are all good choices to pair with warm neutrals. Don't forget about texture. The nubby upholstery fabric adds to the comfort of this dining room and invites guest to linger for a cup of coffee and dessert.
At Casual Dining & Barstools, most of our dining sets can be customized in the finish and upholstery colors of your choice. So, when deciding on the best colors for dining areas in your home, the sky is the limit.